Nova Scotia
Push your boundaries and head east from Maine's northern coast to discover the rugged charm of one of Nova Scotia.
It's time to stretch your cruising boundaries to a place that is closer to the mainland than you might expect. A place where the people are friendly, the scenery is undeniably spectacular, boating facilities are expanding, and the crush of tourists has yet to fully
blossom—Canada's Nova Scotia.
Located on Canada's east coast across the Bay of Fundy from St. John, New Brunswick, and off the eastern Atlantic coast of Maine, Nova Scotia is nearly an island, connected by a relatively thin strip of terra firma to the mainland. Although accessible by car, plane, and ferry, it is by private boat that you'll really get to see this wonderland up close and personal. For those with sea legs, no other approach will do.
Discover the Unknown
Dripping with history and personality, the peninsula was discovered by Italian explorer John Cabot in 1497, and Alexander Graham Bell lived, worked, and boated in the Bras d'Or Lake region. Nova Scotia is one of four original Canadian provinces (the others being Ontario, Quebec, and New Brunswick). But closer to Maine's northeasternmost ports and far more expansive than you might imagine, it's population of slightly less than 1 million is spread across a massive 21,000 square miles. With such uncrowded surroundings, you'll find it is a terrific place to slow your pace, make new friends, and simply poke around or gunkhole in the thousands of pockets, coves, harbors, rivers, and backwaters that encircle and invade the province.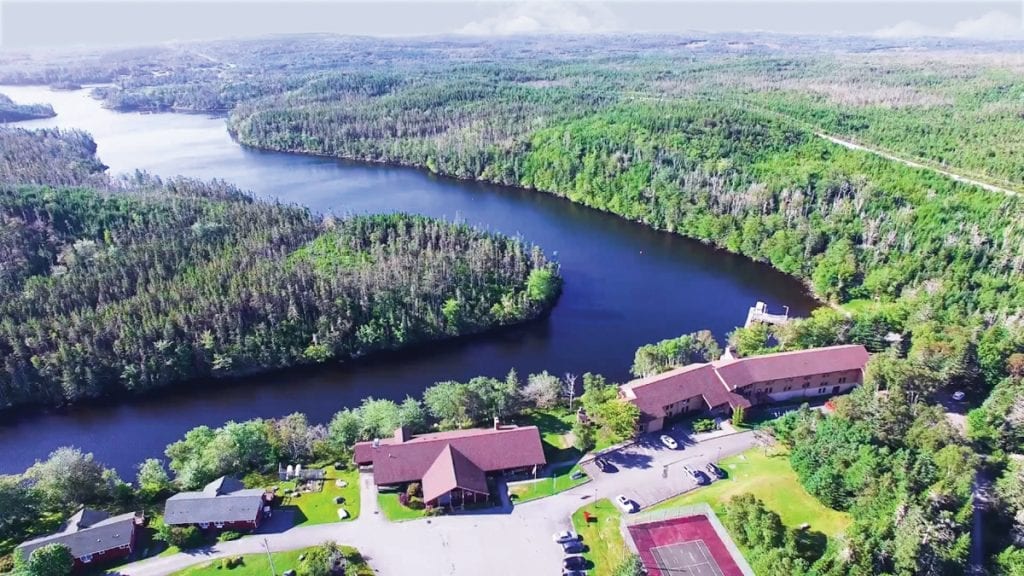 For modern-day explorers who like to adventure out on their own, this is nirvana. The possibilities really are endless, and you can tackle them at your own pace. View hundreds of miles of unaltered coastline, experience wildlife encounters with everything from whales to bald eagles, and enjoy fine dining, wineries, golfing, local culture, and incredible fishing that ranges from giant tuna to Atlantic salmon found along Cape Breton Island's western shore. Diving, snorkeling, biking, hiking, and photography are other options as is virtually any outdoor challenge that tickles your fancy.
Size Matters
"Nova Scotia may be larger than you expect," says Adam Langley, marine director for Develop Nova Scotia. "But make no mistake about it, everyone here is connected to the sea in one way or another. In fact, no matter where you stand in our province, you'll never be more than 42 miles from the ocean. There are seven different regions here, each featuring its own individual flavor ranging from quaint fishing villages to our bustling capital city of Halifax, wine country, mountains, lake regions, and more. Each, however, is anchored by the sea."
All told, Nova Scotia boasts around 4,600 miles of coastline and more than 3,800 islands plus hundreds of small communities where boatbuilding still flourishes. "Their commonality? They all welcome visitors, especially the cruising kind," adds Langley. "And allow me to let you in on a little secret. We aren't as far away as you think."
Cruising Options
Indeed, with the ever-increasing range and comfort capacities of private cruising craft these days, visiting Nova Scotia makes a lot of sense. You'll need a vessel capable of carrying out the voyage across some wide-open water, but seaworthy models in the 40- to-50-foot range as well as much larger yachts make this trip with regularity and ease. Most depart from the easternmost harbors in Maine or St. John, New Brunswick, and cut across the Bay of Fundy for a brief stay in Yarmouth before rounding the point at Cape Sable Lighthouse and heading along the southern shore to the larger and more cosmopolitan Halifax.
This port, in turn, serves as a jumping-off point to slide farther north along the eastern shore to Cape Breton Island and, the pi¨ece de resistance for visiting boaters in this stretch, the Bras d'Or Lake region. Here you'll find North America's biggest inland sea where waters are said to be as deep as the surrounding mountains are tall.
Make it Your Own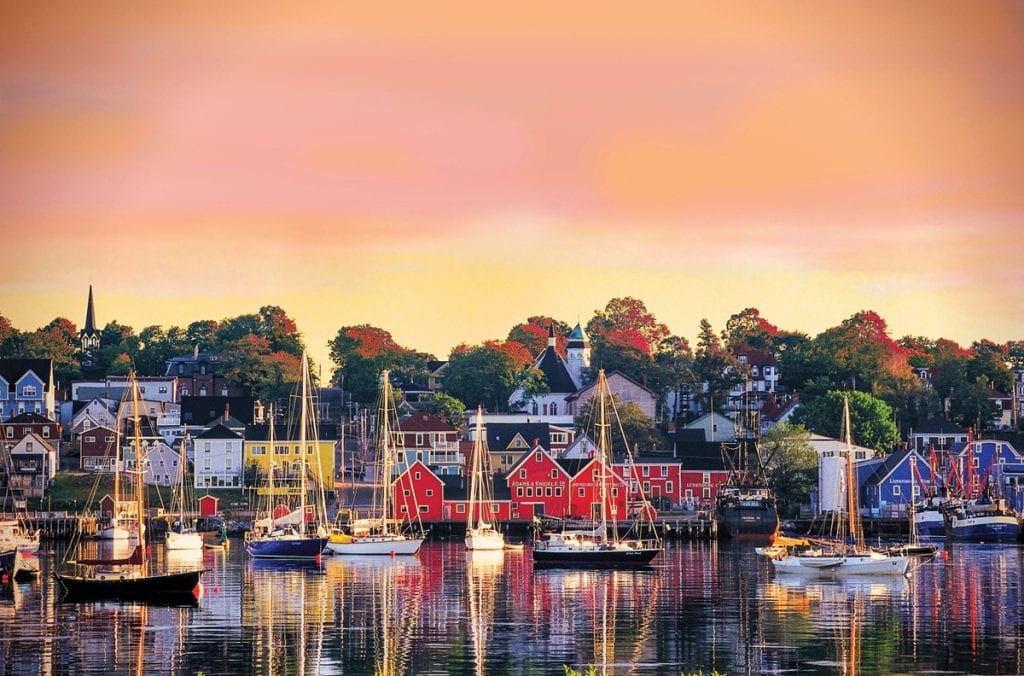 "We took a slightly different trek on our visit here last summer," says Milt Baker, a repeat visitor to Nova Scotia. "Departing from Southwest Harbor, Maine, we ran about two hundred nautical miles to Lunenburg in my bluewater, forty-seven-foot Nordhavn. That's a wonderfully scenic, old-fashioned Nova Scotia town where we enjoyed several nights before heading fifty nautical miles to Halifax with its vibrant waterfront for a week-long stay. From there, we took another overnight to the brackish waters of Bras d'Or Lake, an amazing place that you've just got to see.
Among other establishments, we love a small village there called Baddeck where there are a number of really good restaurants plus the Alexander Graham Bell museum, simply a fascinating, world-class center that features many of its namesake's inventions and those of his wife, also an accomplished inventor.
"Nova Scotia really is a terrific place," continues Baker. "It's beautiful and friendly with clean waters, and there's always something new or different to check out. My wife and I started coming here several years ago. We love the scenery, the atmosphere, and the culture. The people here are welcoming, friendly, and helpful. That's turned out to be one of the primary reasons we keep coming back."
Seasons Greetings
Summer is obviously the time you'll want to make this trip. Nova Scotia gets mighty cold in the off-season, and you best not deal with the open Atlantic come winter. Boating season, at least the tourist one, runs from May through October with July, August, and September as prime time. There is a slight hurricane threat in September, but the big storms have missed this haven over the past few years. You can expect air temperatures of 75 to 85 degrees, moderate winds out of the southwest, and water temps in the high 50s to mid to high 70s depending on which coast you dip your tootsies into. There are some stretches where you can swim without neoprene, says Langley, of the perceived cool waters here.
"Melmerby Beach and Heather Beach on the Northumberland Strait quickly come to mind as does Bras d'Or Lake where you'll mostly dive off the back of your boat."
Plan Ahead
As for where to start when planning your Nova Scotia visit, the Bras d'Or Lake region is a full-fledged journey but a great first choice if you have the time. Roughly 140 nautical miles northeast of Halifax, it's known for gentle waters that are generally fog-free—a real treat in these parts. This area, Baker's favorite, sports beautiful anchorages, hundreds of coves and islands. Even better?  It is recognized as a UNESCO Biosphere Reserve.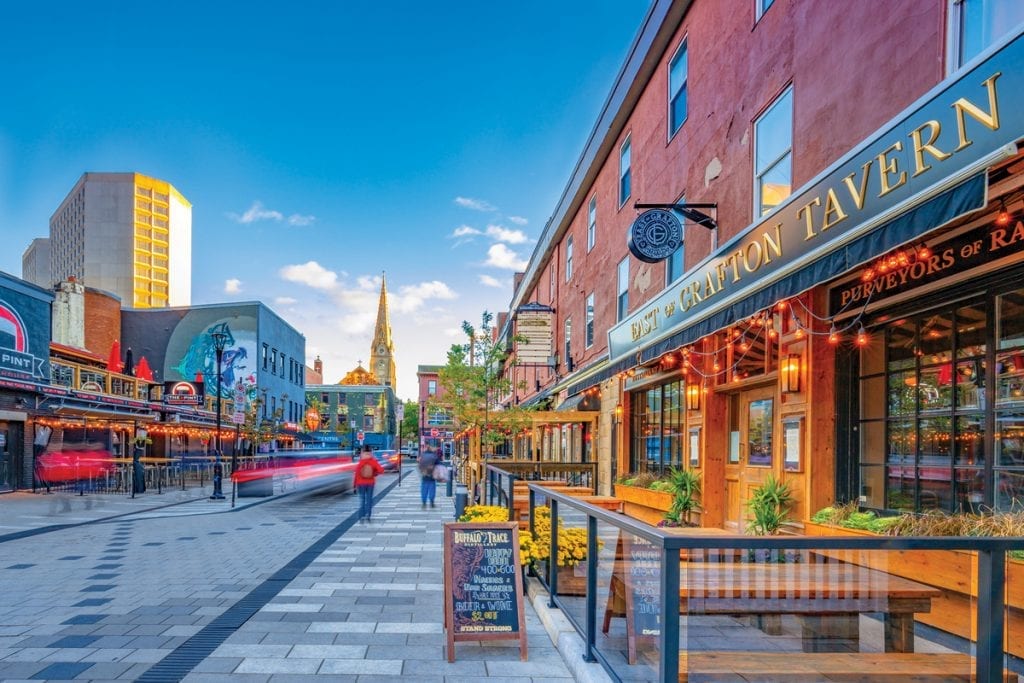 Consider staying in Halifax for a few days, then work your way east along the coast to enter Bras d'Or Lake through the canal lock at St. Peter's. Fully provision and top-off your tanks, both fuel and water, before leaving Halifax. You won't find much heading up to St. Peter's Canal. The Liscombe Lodge Resort and Conference Center tucked in on the Liscombe River is the only spot to get fuel, ice, and a quick bite to eat (provisions are not available). The dock can accommodate boats up to 150 feet with a 12-foot draw.
"Don't hurry or rush if you visit Nova Scotia," advises Langley. "There's just so much to see and do that no matter how long you stay, you'll never squeeze it all into a single trip. See what you can, and enjoy it to the fullest."
Plan an extended visit if at all possible. The No. 1 mistake visiting boaters make when heading to Nova Scotia is not scheduling enough time. In addition to distance, foul weather can keep you at the dock for a day or two at any point in the boating season. "Figure you'll need a minimum of ten days," says Baker. "If you can stay longer, so much the better."
Shades of Nova Scotia
Bay of Fundy: Enjoy whale-watching and experience the highest tides in the world. There are breathtaking lookoffs and fertile lush valleys and vineyards.
Lunenburg/South Shore: This picturesque active waterfront is a UNESCO World Heritage Site. Lunenburg is great for boatbuilding and fishing. French and English cultures intermingle in Yarmouth and Acadian Shores.
Halifax: The best of land and sea with a cosmopolitan blend of cafés, shops, galleries, restaurants, and nightlife combined with a picturesque, full-functioning harbor. The Halifax waterfront offers more than half a mile of public berth space, including 1,500 feet of floating docks. The Harbourwalk boardwalk is home to numerous restaurants, vendors, attractions, and events.
Bras d'Or Lake: Stunning highlands and vibrant Celtic culture make Cape Breton Island a paradise of rugged coastal trails, crystalline lakes, and fascinating local museums.
Eastern Shore, 100 Wild Islands: Features private, sandy beach anchorages and breathtaking nature preserves. Includes some of the best-secluded seascapes in North America. Great for wreck diving, surfing, and bike rides across gently rolling hills.
Northumberland Strait: Stunning beaches, warm ocean water, and breathtaking sunsets. Head ashore and discover the picturesque villages with rich heritage by bike, or kick up your heels to some great local music. Anchor off Melmerby Beach Provincial Park or find one of the many secluded island beaches, such as Pictou Island's unspoiled beauty.
Just the Halifacts: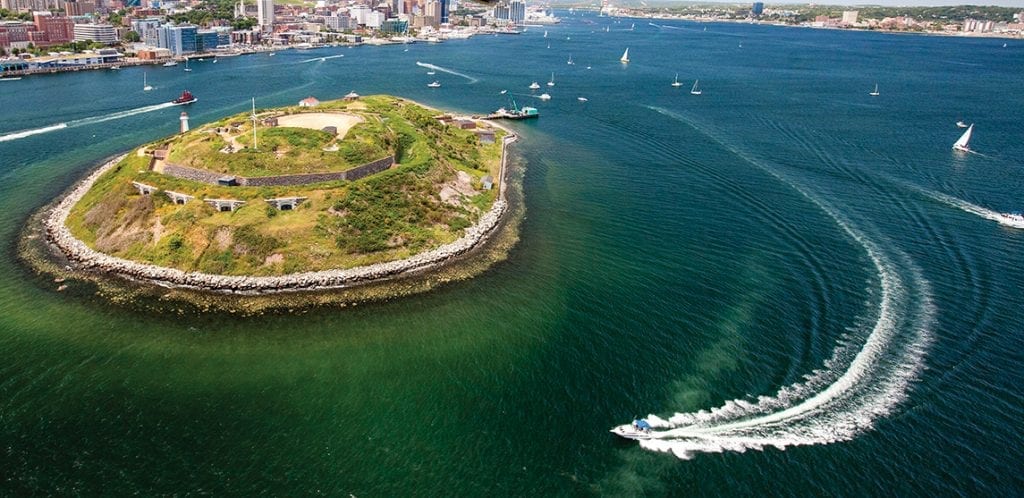 Travel Distances to Halifax from:
St. John, New Brunswick 295 nautical miles
Boston, MA 380 nautical miles
Portland, ME 330 nautical miles
Bar Harbor, ME 275 nautical miles
Newport, RI 435 nautical miles
Halifax is Nova Scotia's capital city and a popular jumping-off spot for cruising the entire southern shore, but Yarmouth is the closest Canadian port of entry for anyone coming directly from the U.S. Subtract approximately 140 nautical miles from the distances above if Yarmouth is your initial destination. The port does have some dock space as well as anchorages and is a dedicated clearance port for Canadian Border Services.
Good to Know
Most harbors in Nova Scotia have a government wharf. However, these are quite rough with docking limited or unavailable. Be safe and check ahead whenever possible. Also, note that many public slips lack electric and some might not have water or even restroom facilities. The farther you progress from the primary ports, the more you'll need to be self-sufficient. Always carry full provisions, and be aware of the next fuel, food, and lodging possibilities.
Additional Resources
Nova Scotia Boating Guide: developns.ca/visit
Boating in Nova Scotia: novascotia.com/see-do/outdoor-activities/boating
If you're a golfer, sign up for the Harb'r Cup at Fox Harb'r Resort on Nova Scotia's northern coast September 3-5. Two spots are open for readers interested in this invitation-only event. Contact kimberly@kimberlyibarra.com.