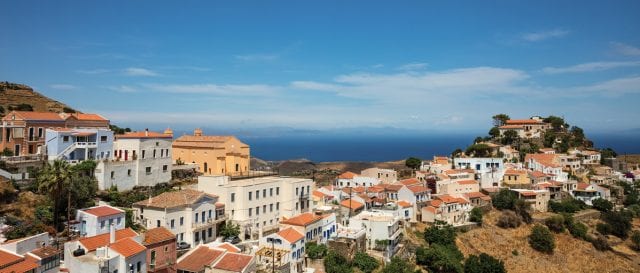 Cruising through Greece is like stepping back in time
The charts spread out on the nav desk are intimidating. There's so much to see in the southern Aegean Sea with more than 200 islands in 1,000 square miles of water. Our challenge is to determine how many places we can explore in just two weeks. We decide to try for a dozen—an ambitious goal given the distances and amount to see and do on the spectacular Cyclades Islands of Greece where, it seems, time has stood still for millennia. Cruising through Greece is an unending pleasure.
Med-Style
We head south out of Lavrion just as the northerly winds pick up. Med mooring (docking a boat end-on as opposed to alongside) in 35 knots teaches us what a treat the Meltemi wind can be. As if it's not hard enough to reverse into a gap that looks half the needed size, the wicked Greek Meltemi adds to the fun of our arrival at Mykonos Island. We face down some Croatian charterers for the last quay space, tie up and wait for the Meltemi to blow itself out.
Mykonos is where the beautiful people come to party, some on the superyachts that dot the large bay. The island seems to burst out of the sea, spilling chic eateries, artsy galleries, decorated staircases, and classic Greek island architecture in every direction. The town is made up of narrow alleys where tiny restaurants are shoehorned into every corner. Fashion boutiques carry everything from designer dresses to handmade flip-flops that are so beautifully arrayed, it nearly makes a shopper out of even me. Souvlaki (the popular Greek fast food of meat on a skewer) wafts on the breeze that curls around alley corners, and every door is a work of art.
The Meltemi wasn't letting up so we book ferry tickets to Delos, the neighboring island, all of which is an active archeological dig. There are no tavernas, no discos, no shops, and most important, no anchoring, which is why you take a ferry.