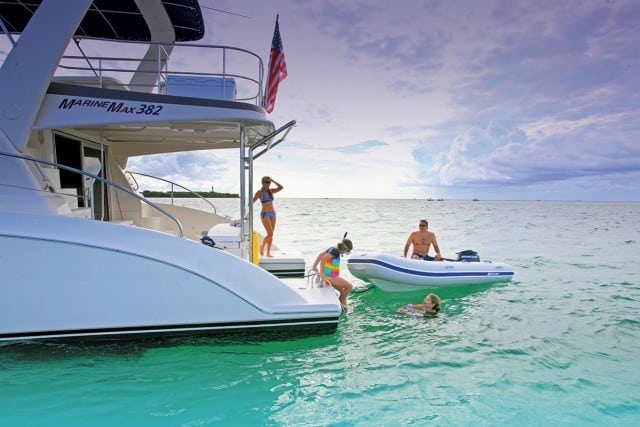 Regardless of your budget or lifestyle, there's a boat charter ideally suited for you.
Prior to the year 2000, I had the impression that boat charters were of two distinct varieties:
1. Crewed luxury megayachts that only the uber wealthy could afford, or
2. Single-hulled sailboats for experienced yachtsmen qualified to plot a course using only the stars and a compass and who crossed the Atlantic at least once.
I qualified in neither category, but now after two charter trips to the British Virgin Islands (B.V.I.)—the first in 2000 onboard a crewed sailing catamaran with two other couples and the second in 2012 on a power cat courtesy of The Moorings—I'm convinced that just about anyone not only can, but should charter. With over 70 percent of the earth's surface covered by oceans, our planet's cruising grounds simply beg for exploration. Most boat owners, however, have neither the range nor the vacation time to reach them. Now, with myriad charter companies and itinerary options available—whether your vacation time and budget are limited or large, or you've been cruising for decades or just days—chartering is for everyone.
For those who might feel more comfortable in U.S. waters for their maiden charter, Southwest Florida Yachts, based at Tarpon Point Marina on the Caloosahatchee River in Fort Myers, Florida offers a three-day Basic Powerboating course to brush up on boating skills while at the same time become familiar with your charter boat. A four- or five-day charter is enough time to get your feet wet, explore Sanibel and Captiva Islands, or even venture to Key West. Staying on the hook or mooring balls will make the trip more affordable, but if you start missing land, there are plenty of marinas to duck into, and reservations are easily made since you're in cell phone range.
On our first charter to the B.V.I. in 2000, even though we were all knowledgeable boat owners and cruised frequently, we opted for an owner-crewed sailing catamaran. Our boat's owners were well acquainted with all the area had to offer and customized our charter according to our interests: frequent snorkeling, at least one SCUBA dive to the Rhone and several shore excursions. We found the company online through a small, private charter website, but since then, numerous charter companies have established base operations throughout The Bahamas and Caribbean and offer a wide range of boats and options. From most U.S. airports, two flights will get you to your charter operator's base location. The Moorings based on Tortola has more than 400 charter boats, both sail and power in a variety of sizes and layouts, including the 393 power cat we used with one other couple in 2012 for our first bareboat experience. Prior to boarding our boat, a detailed presentation provided pertinent information and ample opportunity for getting our questions answered. The company assembled all the equipment and information in advance, including prepaid cruising permits, a mandatory cell phone preprogrammed with all the pertinent contacts, and water toys such as a kayak and paddleboard. Having been to the area previously, we knew that line-of-sight navigation was one of the benefits to chartering in the B.V.I., and that the close proximity of islands ensures a host of options for ample entertainment, mooring or snorkeling options. (Advice: When you charter in the B.V.I., save time by flying to Tortola rather than St. Thomas. The flight will cost more, but you'll save time and money on the hotel and ferry.)