Bank on
 t

he Cayman Islands
The Cayman Islands offer SCUBA diving, sportfishing, sailing, and more.
The banks off the Cayman Islands, located in the Western Caribbean and part of the Greater Antilles, are a big draw. There's the Cayman Bank 12 miles to the west of Grand Cayman, plus Pickle Bank, Lawfords Banks, the 60 Mile Bank, the 110 Mile Bank, and more. Rather than financiers who gravitate to the monetary institutions for which the Cayman Islands are globally famous, these offshore banks beckon to sportfishermen. 
Just ask Frank Thompson, president of the Cayman Islands Angling Club and the territory's International Game Fishing Association representative. Thompson finds there's nothing better than trolling for blue marlin aboard his 33-foot Blackfin, whether it's near shore or around these fish-filled banks. Sportfishing is a family affair for Thompson. His 15-year-old daughter released her first blue marlin last year, and his 11-year-old son did the same in August. Beyond sportfishing, sailors, snorkelers, and SCUBA divers, as well as those who simply love fine dining and accommodations on the water, will find a place in the sun in the Cayman Islands.

Island Trio
At 76 square miles, Grand Cayman is the largest of the three islands that make up this British Overseas Territory. It's definitely the island to base a vacation with plenty to see and do in the modern capital city of George Town, an alphabet of high-end hotels—Hilton, Kimpton, Marriott, Ritz-Carlton, Westin, and Wyndham—and two major marinas, The Barcadere and Safehaven. By sea, Grand Cayman is an 830-nautical mile trip from Miami and entails swinging west around Cuba on the way south. Shorter is by air, with one-and-a-half-hour flights daily to the Owen Roberts International Airport in George Town. Jamaica is the closest island to the southeast, while Cozumel, Mexico, is the nearest land to the west. 

The Cayman Islands aren't a territory and are very different from the Virgins or Grenadines that are line of sight or even stepping stones navigation-wise. Little Cayman and Cayman Brac lie 60 and 90 nautical miles east, respectively, from Grand Cayman. True to the name, Little Cayman is the smallest at 10 miles long with about 160 residents, while Cayman Brac is 12 miles long with a robust population of about 2,000 "Brackers." 
What these two islands lack in amenities and facilities, such as marinas, compared to Grand Cayman, they more than make up for in natural attributes and beauty. Little Cayman is a diver's wonderland with swim-throughs, drop-offs, and sea creatures galore at the Bloody Bay Marine Park. Cayman Brac is ideal for reef, wreck, and wall diving, plus hiking and spelunking ashore. The Cayman Brac Museum at Stake Bay showcases nautical exhibits on turtling and shipbuilding. Grand Cayman's sister islands are accessible only by air or boat.
"We're off the main Caribbean cruising areas," says Jonathan Cuff, general manager at Harbour House Marina in George Town, which is more a marine facility with an 8,000-square-foot chandlery, yard with 70- and 150-ton marine lifts, and dealers for brands like Sea Ray, Release, and Boston Whaler, than a traditional dock-and-slip marina. "Most people with crews tend to go to the Eastern Caribbean for island hopping. We are very much an island alone. It's even a slog almost directly upwind in the tradewinds to get from Grand Cayman to Little Cayman or Cayman Brac. What we do get are serious long-range cruisers who leave from Florida, for example, and stop here to get provisions or carry out repairs before heading south to Guatemala or the Bay of Islands in Honduras or even transiting the Panama Canal. That said, Grand Cayman is a wonderful place to visit with restaurants, resorts, and plenty of water sports to enjoy."
Sea and Do
Ninety percent of boating activities in Grand Cayman take place in the North Sound, situated on the north side of the island. Roughly six-by-six nautical miles in size and relatively shallow, this sheltered sound offers great snorkeling near the reefs and some 60 distinct dive sites full of fish, corals, and sponges. There are several nautical attractions in North Sound and to the west, such as gorgeous Seven Mile Beach. 
"Stingray City is the most popular and well-known attraction on Grand Cayman where
you can swim among the stingrays. Starfish Point is where you can wade among the starfish and is close to Rum Point, which is also a popular site to dock your boat and hang out among the palm trees and relax with a cocktail," says Rob Grisdale, manager at the George Town Yacht Club, not an actual club, but a casual dining waterfront restaurant associated with The Barcadere Marina and open to the public. "SCUBA diving is very popular on Grand Cayman with many sites to discover such as the Kittiwake wreck. Deep sea fishing is another attraction, and if you don't have your own boat, there are many private charters available for all these attractions." 

Sportfishing for All
The 83-slip Barcadere Marina accommodates yachts up to 150 feet in length with an 8-foot draft, and includes slip-side 120/208-volt power and water plus free Wi-Fi, washrooms, and security on property. There's dockside fuel, and the adjacent Scotts Marine is a full-service marine center with a 110-ton marine Travelift. Scotts is an authorized dealer for Mercury Marine, Volvo Penta, Yamaha, and Yanmar as well as Tiara, Pursuit, Cobalt, Starcraft, and Bayliner powerboats. 
The marina is host to two annual sportfishing tournaments run by the Cayman Islands Angling Club: the BK Big Fish Tournament in early April and the Cayman Islands International Fishing Tournament in late April and early May. The latter, which attracted nearly 40 boats this year, is a qualifier for the Offshore World Championships held annually in Quepos, Costa Rica. The daily weigh-in for each of these tournaments is in front of the George Town Yacht Club.
"You can catch blue marlin here year-round," says Thompson. "However, the spring and early summer months are when they are most prevalent. October through March are better for wahoo and yellowfin tuna. The largest yellowfin, one hundred-plus pounders, show up around November, while the dolphin are heavier in the spring." 
Come Sail Away
Sailors will find half-day, full-day, and sunset cruises on both 20-foot-plus center consoles and powercats, and larger group-type sailing catamarans, with excursions most frequently in the North Sound area. 
Sailboat racing got its start nearly a century ago when 20 schooners and up to 300 catboats competed for trophies and bragging rights. Today, the Cayman Islands Sailing Club follows the tradition of an active regatta calendar with monthly racing for open dinghies (Optis, Picos, and Hobies), one-design J/22s, and cruiser-class boats.
"Our largest and most anticipated event is the annual Round the Island Easter Regatta, which is open to all boats, members and non-members alike," explains Denise Couch, the club's administrator. "The Easter Regatta commences in the North Sound and finishes on the first day at Sunset House (around the island's West End peninsula). Then, it carries on in the Back to the Sound Race. Visiting sailors are welcome to join in any of our racing. We have boats for rent which may be used in the racing. Visitors are also welcome to our clubhouse for drinks, a game of pool, and any of our social events."
The Cayman Island Sailing Club is also the Member National Authority for sailing. The territory launched its Cayman Island Olympic Committee in 1973, and since 1976, has sent sailors to six Olympic Games. 

Dock and Dine
On land, Grand Cayman boasts all the lux leisure pursuits of a tropical island destination. Spend a day at Camana Bay's Town Centre, north of George Town off Seven Mile Beach, for duty-free shopping for designer brands like Gucci, Polo Ralph Lauren, and Prada. Pizza, pasta, seafood, and steaks are here, too, as well as a juice bar, bakery, and Starbucks.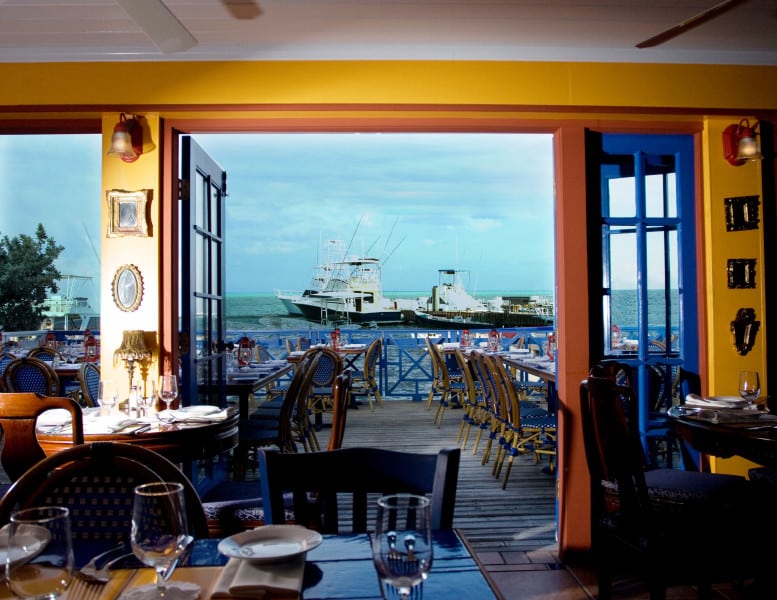 Dock to the west side of North Sound at Morgan's Harbour and dine at the Australian-Caribbean-themed Tukka West restaurant or Calypso Grill on Morgan's Lane with its Crispy Mango Shrimp and Sticky Toffee Pudding. Or go for a Michelin-worthy experience at Blue by Eric Ripert, at the Ritz-Carlton, Grand Cayman. It's a meal that may break the bank, but it's worth it. After all, it's the banks that make the Cayman Islands a mariner's paradise. 
-by Carol Bareuther