When you think of boating in The Bahamas, northern Long Island will probably not come to mind, but set your waypoints to experience some of the best beaching, fishing, diving, and cruising offered anywhere.
Within a seven-mile radius of Burnt Ground Settlement, the coast is contoured by curving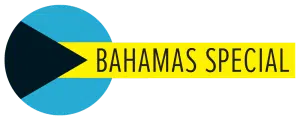 curling inlets, ocean caves and cozy coves where shifting sand makes it difficult to know where the Exumas end and northern  Long Island begins.
Around Glinton Sound and Adderley Bay, the land and the sea intersect ambiguously to form vast fishing flats. You can practically drive your car right onto the marsh in Adderley's. In two minutes you can walk out and cast a line. And just three miles west of Cape Santa Maria, the shelf drops off to 3,000 feet. Along the shelf, in waters ranging from 130 feet to 1,300 feet, is prime territory for deep sea fishing.
In the anchorages of Calabash Bay and Joe Sound along Galliot Cay, you're likely to find a social scene with neighboring boaters or head up to Cape Santa Maria Resort to drink and dine out. If you're further south, step into the plantation-style Stella Maris Resort Club and Marina, which is also a port of entry.
Rich History
Northern Long Island is an underexplored treasure that provides a compact dose of The Bahamas' best. One of the most sentimental of all places is Blue Sound and not only because Christopher Columbus sailed into this cove during his earliest voyages to the Americas. It's also where Bahamian children went for schooling in the ways of island living.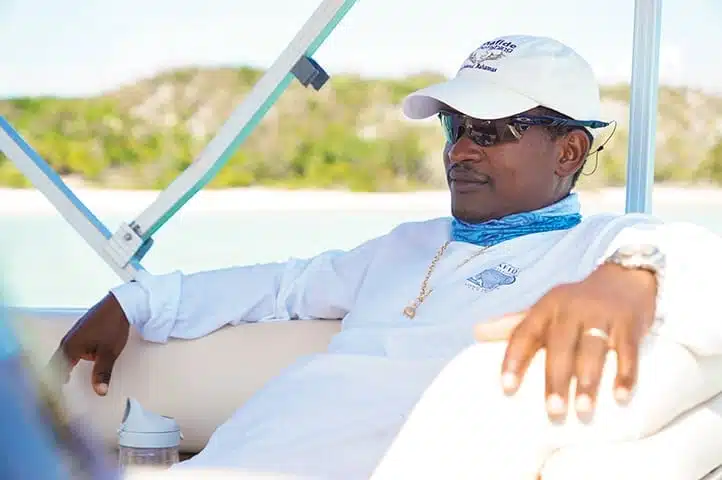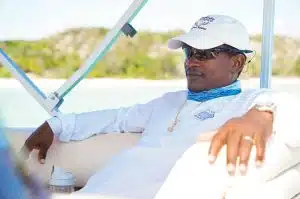 Today, Blue Sound protects a turtle habitat, a marine nursery, and mangrove creek system. As a boy of no more than 10 years, James "Docky" Smith, a local fishing guide and tour operator, learned how to fry fish on the beach at Blue Sound. Docky and his friends would borrow supplies from their mothers' kitchens and sneak by the beach to catch fish with hand line"Shads, grunts, little porgies, and needlefish—we'd catch every damn thing," he recalls laughingly. "We'd carry the best pot. You didn't want to cook in an 'oogly' pot for the girls. Of course, you'd get a beating when you came back home."
Captain Delbert Smith, another seasoned boater in northern Long Island, says his teenage years included learning how to scull an engineless boat across Blue Sound and off-the-record fishing trips to the Atlantic side. Delbert and his friends would find a path across the sound that was shallow enough to wade through and hike up the cliffs to fish off the rocks.
In this area, conch once littered the sands. Locals could walk out and simply pick them like ripe mangos fallen on the ground in the backyard. The hordes of conch may be gone today, but the sands and shallow seas remain. Blue Sound continues to be a playground for locals and visitors.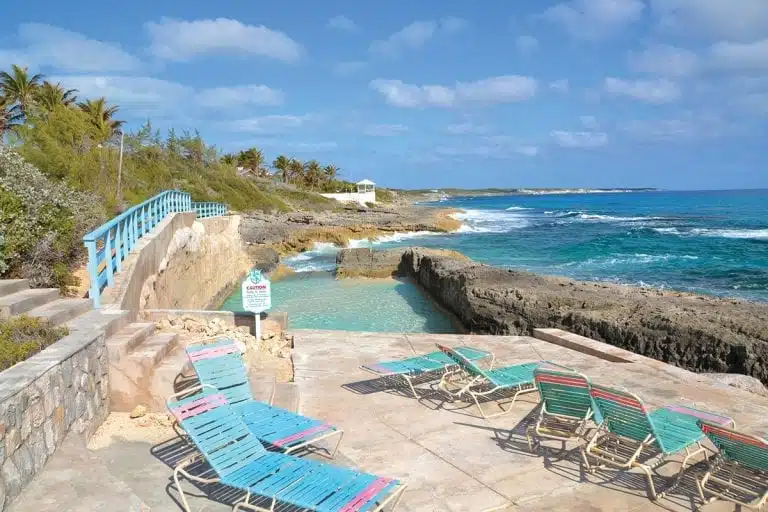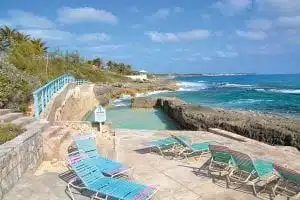 "It is hard to explain unless you see it. It is the only bay I know that is protected on all sides—beautiful from any direction. It has always been a meaningful place to me," says Docky, who owns Bonafide Bonefishing. "I grew up there. I do tours there. When my kids come from college they hang out there. It still plays a big part in my life."
Docky's tour company offers a pontoon boat tour through the mangroves of Newton Cay, into Blue Sound and by the Columbus Monument that commemorates Columbus's arrival in 1492 as well as the island's aboriginal people.
Northern Anchorages
Calabash Bay
It may be one of the most beautiful anchorages, but Calabash Bay is not the most protected. Northern or northeastern swells on the Atlantic can wrap around the cape and cause discomfort in this anchorage. Several entrances cut through a protecting reef on the outside. Use sight navigation and stay inside the channel. There are no lights or channel markers.
Lat/Lon: N23° 38.071′ W075° 20.501′
Depth: 9–15 feet
Joe Sound/Galliot Cay East
The long, narrow channel inside Joe Sound might provide one of the best anchorages in Long Island but first, you have to zigzag your way through an extremely tight entrance. The opening sits between two rocky cays just five miles south of Cape Santa Maria.
There is all around wind and wake protection inside, but the strong currents in the channel do call for a bow and stern anchor.
Lat/Lon: N23° 37.030′ W075° 20.580′
Depth: 3–6 feet
---
By Noelle Nicolls, Southern Boating May 2018
Photos courtesy of Long Island Tourism Board and James Smith: the Domestic Tourist.