Harbour Island in The Bahamas is well-known for its natural beauty, soft pink sands and combination of English and Caribbean aesthetics. The 300-year-old Dunmore Town on the island once served as the Bahamian capital in the early 1900s—and it is there that you'll find the new Valentines Resort & Marina.
Valentines Marina is the largest on Harbour Island, with 50 slips for boats up to 160 feet. State-of-the-art systems for fresh water, power, cable TV, and WiFi access are provided at each slip. Dock attendants are on hand to assist with arrival and departure, while security ensures only docked guests may access the wharf at night. Other amenities include shower, restroom, coin laundry, and waste disposal services.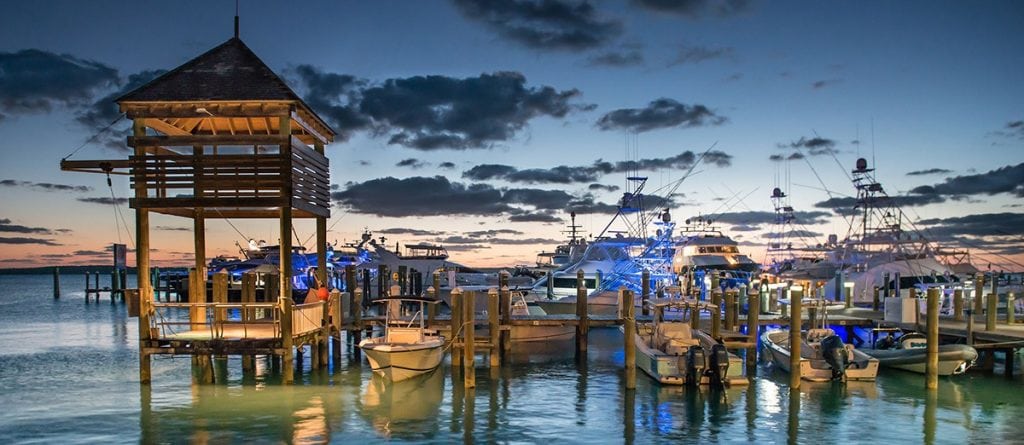 Valentines Resort is a collection of stylish villas inspired by historic Harbour Island architecture. Each villa comes with a large patio, plush décor, marble restrooms, and a fully equipped kitchen with filtered drinking water. If you don't want to cook, room service for breakfast, lunch and dinner is available. Massage therapy and yoga classes can be arranged in the comfort of your own suite.
SCUBA fans can explore local reefs and grottos with the Valentines Dive Center—equipment and cameras are available to rent each day. The Dunmore Town watersports center offers rental watercraft and a number of fishing excursions for deep-sea, fly or reef fishing. Harbour Island and the nearby Eleuthera Island are home to excellent bonefish spots, and trips can be reserved through phone or email.
Marina Features:
• 50 slips for vessels up to 160 feet
• Electricity (30, 50, 100 amps), fresh water, cable TV, and wireless internet access
• Fuel dock
• Waste disposal
• Shower, coin laundry, and restroom facilities
• Nighttime security
• Mail service
• Fax newspaper
• Onboard and room dining
Other Amenities:
• Resort villas with luxury décor and full kitchen
• Massage and yoga therapy
• Room service meals
• Babysitting services
• Pool
• Dive Center with SCUBA and watersport rentals
• Fishing charters
Information:
Valentines Resort & Marina
Box One, Harbour Island
North Eleuthera, Bahamas
1 (800) 389-6864
Fishing Reservations: (242) 333-2142
valentinesresort.com
By Daniel Wagner, Southern Exposure