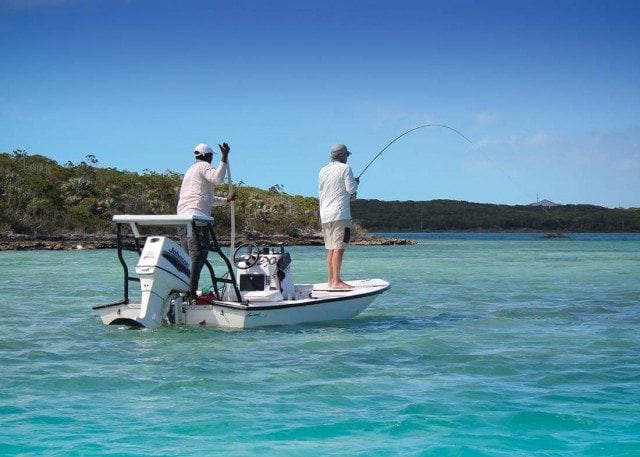 There are two full-service outboard shops in George Town: Minns Water Sports and Brown's Marine. Minns is a Yamaha dealer and Brown's sells Suzukis. Brown's can handle almost any size outboard boat with engines up to 350 horsepower. These outboard shops are especially important because they provide excellent services so far south of Nassau.
February Point just opened a new restaurant, the Rusty Anchor, which I highly recommend. The new building has a lovely view across the flats to Crab Cay, the food is upscale and the staff is as cheerful and efficient as anywhere in The Bahamas. Moor your dinghy at their new marina and walk a few yards to the restaurant. februarypoint.com
One of the jewels of George Town is Diane Minns' Sandpiper Arts & Crafts, a store with quality items for the whole family. When you are done shopping, step next door to the Driftwood Café or across the street to Peace and Plenty for lunch. You old timers may like to know that Lerman Rolle, "The Doctor of Libation," still mans the bar at Peace and Plenty.
Late April is when George Town becomes really enjoyable. This year the National Family Island Regatta is April 26-30. The regatta is great fun and one of the most photogenic events anywhere. After the regatta most of the cruisers start to leave—some to head to the Caribbean for hurricane season and others head back to the U.S. For those who want peace and quiet, this is the beginning of the best cruising in Exuma and a great time to run out and back to the southeast islands. Great Exuma remains one of the very best locations for flats fishing, and there are excellent locations to fish in almost any weather.