Discover the secluded coves and uninhabited beaches of Rose Island, Bahamas.
If you have the luxury of a boat while traveling in Nassau, don't bother beaching in the capital or Paradise Island. The best beaching locations nearest Nassau are to the east on Rose Island.
On this 11-mile-long island, you can pick and choose between secluded coves and sprawling stretches of uninhabited beach. There are also a few beach bars and private homes where you can hang out and enjoy relaxed party vibes. First Beach is only 4.4 miles outside of Nassau Harbour and from there, the city will become but a memory. Twenty years ago, you could barely see a house in sight on Rose Island. Today, the island is no longer the best kept of secrets. A few second homes are scattered around and some small-scale commercial developments have begun to pop up here and there. Most are unobtrusive, but one thing has remained constant: The summer still belongs to Rose Island as the most conveniently located boating hub for beaching near Nassau.
If your summer cruising plans include Nassau, prepare in advance and get a better taste of the summer vacation fun to be had. Turn the page to check out Rose Island's four beaches.

First Beach
Rose Island's northern coast has a treacherous reef system that runs parallel to the shore. Local boaters call it the "lower-unit graveyard" because many propellers incidents. If you stop at First Beach, there are fewer opportunities for mishaps and you will have more beach time to enjoy because it's the easiest beach from which to navigate back to Nassau. Named for its location, First Beach is quite literally, the first beach on the western end of Rose Island. Its location is ideal for boaters unfamiliar with Rose Island's reef systems. Several boat excursions carry guests here, including Party Cat and Flying Cloud, to enjoy the white sand and also the superb snorkeling on the active shoals just off shore. Repeat visits will feel new since the nature of this beach changes due to waves that reshape the beach and its undulating white sand.
MacTaggart's Beach
This is the most eastern beach on Rose Island and very secluded by virtue of its distance. The large beach attracts groups of boaters for impromptu summer sailaways, but bring whatever you need as there are no amenities here. The safest option is to use a captain with local knowledge to safely navigate the reefs, but in any case, leave well before sunset. You'll be riding into the sun on the way home, so polarized shades are a must.
Footprints Beach
Footprints Beach Bar and Grill is the newest hangout spot on Rose Island because, in addition to great sand and sunning spots, there are amenities to service guests. Located toward the eastern half of Rose Island, Footprints Beach is a calm, shallow spot that is ideal for lounging in the shallows and hanging at the bar. The atmosphere is casual and down-home, barefoot and open air. Footprints is open seven days a week from noon until sunset. The property will soon feature a few island cottages so you can forget about the ride back to Nassau and stay the night.
Sandy Toes Beach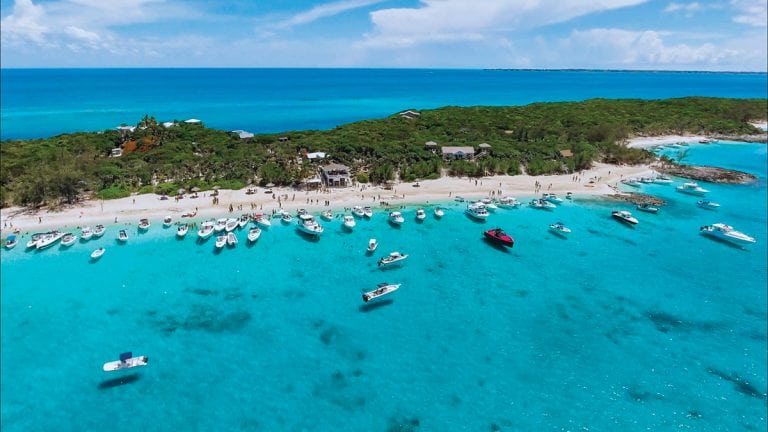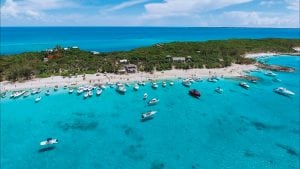 This beach invites a party atmosphere on Sundays with a bar and grill that caters to local boaters who flock to the island. At other times, Sandy Toes can be a relaxing getaway without complete isolation. On the hilltop, a grove of hammocks is a great place to hang out. During the week, Sandy Toes provisions mainly for guests on excursions.  So, be sure call ahead if you plan to bring your own boat and eat at the grill.
Sandy Toes has a great mooring on the southern side of Rose Island near its dock. It's why many sailboats and large yachts use this area to anchor. There is also a low tide beach known as Lower Harbour Beach just east of the mooring. Small tenders can pull up here too. When the winds are coming out of the north, this area is totally protected and available for beaching.
By Noelle Nicolls, Southern Boating July 2018
Photos courtesy of the Bahamas Ministry of Tourism