Have you been to Bimini lately? We have!
The Bahamian island is located just 50 nautical miles from South Florida's coast so the island is a common stop for both locals and tourists who want to experience an island escape. The island has deep historical roots, both fabled and true. This lore includes the mysterious underwater Bimini Road, which is said to be a piece of the Lost City of Atlantis.
If a lost city isn't enough to wet your appetite for stories, it's also said that Juan Ponce de Leon once searched Bimini in hopes of finding the Fountain of Youth.
Another notable resident: Ernest Hemmingway. The small island was a favorite fishing escape for the acclaimed author. Bimini boasts spectacular fishing grounds and crystal-clear waters for diving and other water activities.
The island was a treasure trove during the Prohibition Era—tangled mangroves provided rum-runners the last hideout before shipping alcohol to the states.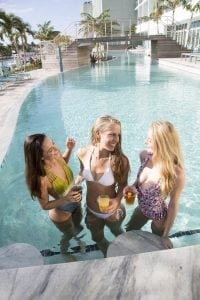 But the fabled face of Bimini has come a long way since then. Home to just more than 2,000 residents, Bimini has seen major development and change since Leon searched for eternal youth.
The opening of the new Hilton at Resorts World Bimini was described by Bahamian Prime Minister Perry Christie as "a defining experience for the Commonwealth of The Bahamas". No wonder, as this 750-acre luxury complex nestled comfortably on North Bimini offers a premier resort getaway unlike any other in the area.
Arrive at the resort either by boat or seaplane and you'll be greeted with the sight of turquoise waters and the sheer expanse of the resort's layout. The Marina at Resorts World Bimini is the largest marina complex in The Bahamas and accommodates vessels up to 180 feet in length. Since it's only 50 nm from the South Florida coast, cruising internationally to Bimini is just across the Gulf Stream.
With the addition of the resort, visitors can float the lazy river pool or relax at the Serenity Spa (perhaps a modern-day version of the Fountain of Youth?).
The Resort includes 10,000 square feet of meeting space featuring ocean-side views making the island a quick getaway for pleasure or business. Bimini now is host to the world's only waterfront casino with panoramic views and offers popular table games such as baccarat, blackjack, craps, and roulette.
If you don't carry toys aboard your boat or you just want to play in the warm island waters, the resort rents kayaks and Jet Skis, and can arrange for paddleboarding and shore excursions.
The face of the beloved Bahamian island is growing and changing while still maintaining the iconic magical folklore that made it the island we know and love.