George Town on Great Exuma is surely the most popular destination in The Bahamas with well over 300 boats in Elizabeth Harbour during much of the winter season. One good reason why George Town is so popular is the spectacularly beautiful harbor with its variety of anchorages that accommodate huge numbers of boats without overcrowding or compromising safety.
The major change to George Town is that in recent year the harbor has a much nicer atmosphere. All the boats are good quality and well-maintained. The cruisers network is efficient and informative, and cruisers are upbeat, friendly and respect each other's privacy. There is all manner of communal activities including a local regatta, yoga, volleyball, bridge, church services, and dinghy drifts—recently 86 dinghies watched the sunset together. If you don't find your favorite activity it's easy to get something started.
The hub of activity is Chat 'n Chill on Volleyball Beach on Stocking Island. Chat 'n Chill is still going strong and has excellent grilled food—the ribs are some of the best in The Bahamas. The beach is busy with people of all ages getting to know each other and having a really good time. As in most places things change over the years, but Peace and Plenty, Minns Water Sports, Exuma Markets, Eddy's Edgewater, and Chat 'n Chill are well managed and continue to provide excellent facilities and service.
The harbor community—local authorities, citizens, and cruisers—is generally conscious of both enjoying and conserving the environment. There are dinghy moorings on the best snorkeling sites, instructive eco-tours, better garbage and sewage collection, and the town is cleaner. Mariah Harbour Cay and surrounding flats and mangrove creeks are exciting areas for bonefishing and birding. Also, south of the bridge to Little Exuma, miles of flats and creeks invite you to fish and explore.
There are also short destination cruises you can make in your dinghy. Highly recommended is a lovely run down the channel past Rolle Town and Hartswell to the Turquoise Cay boutique hotel. Bring a couple of friends, have a leisurely lunch, and take a swim or go bonefishing on the way back. If you want simpler fare make a run to Cheater's for traditional Bahamian food. Call (242) 357-0329 or visit turquoisecay.com.
New facilities on New Providence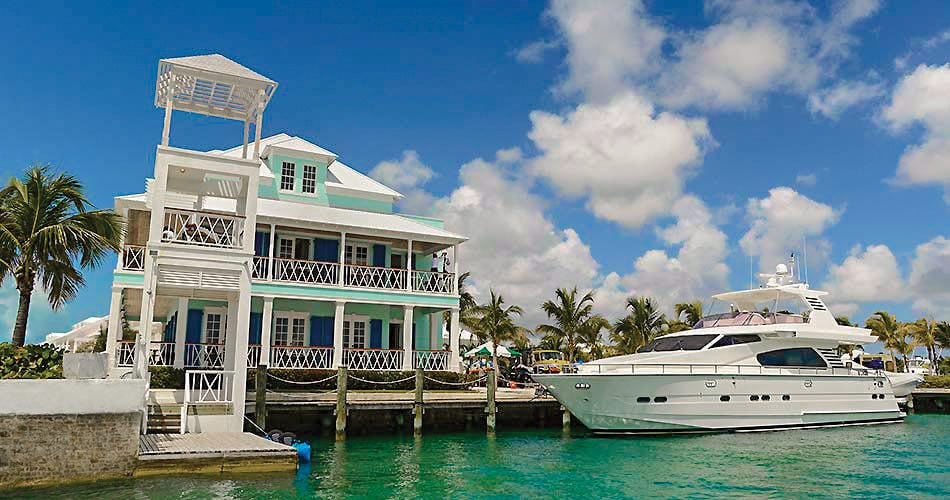 Palm Cay, a new residential and marina complex on the southeast shore of New Providence offers a 194-slip marina with plenty of room for long-term and transient vessels from 18′ to 110′ and drawing up to 9′ at low tide. The current dockage rate is $1.75 per foot with a wide range of services including a restaurant, café, courtesy car, and swimming pool. At first glance you'd think that the luxurious development known as Palm Cay was designed only as the ideal vacation destination with an assortment of beach club amenities and huge stretches of white powder-sand beaches, but it is a great place to rest and provision before jumping off to the Exumas or north to Eleuthera. Call (242) 676-8554 or visit palmcay.com.
Courtesy flag legality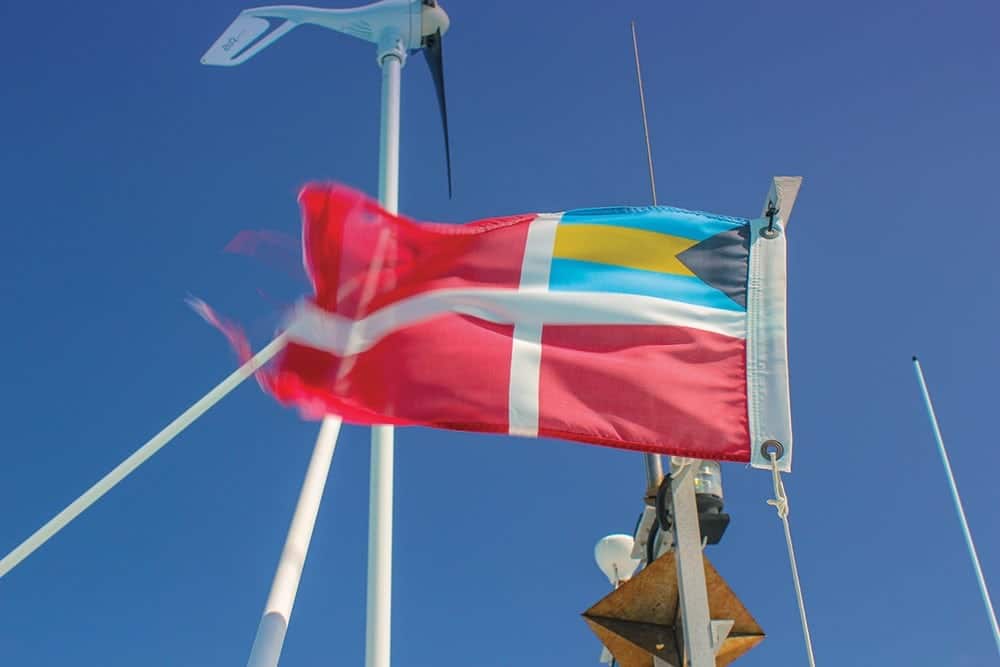 Courtesy flags are not just for courtesy; they have a legal meaning. When a vessel enters foreign waters it is required to fly a "Q" flag on the starboard spreader to show that it has just arrived and needs to clear Customs. After the vessel has cleared, the "Q" flag must be removed and replaced with a courtesy flag, which must be flown until the vessel clears out of the country. The courtesy flag signifies that the vessel has cleared Customs and has permission to be in the country. The vessel should also fly its own national ensign when underway and during daylight hours when moored.
The Bahamian courtesy flag has a red field with a white cross and has the national ensign in the canton or upper corner. If a proper courtesy flag is not available, it is better to fly The Bahamas national ensign than none at all. By tradition in the U.S., the New York Yacht Club—as the country's oldest yacht club—is the authority for flag etiquette on yachts. Many cruisers today do not belong to yacht clubs, so they may prefer to use the etiquette published by the U.S. Power Squadron or another organization. Any owner can also design and fly his own private signal or house flag, which can be fun and add distinction to one's vessel. According to the Power Squadron, the private signal "should be a unique design and always in good taste."
Summer Escape to Abacos
[photomosaic ids="4552,4553,4554″ orderby="rand"]
Boat owners who have always wanted to cruise the islands of The Bahamas but are reluctant to leave U.S. waters are invited to join Denison Yacht Sales Summer Escape Rendezvous July 15-22. The weeklong adventure will include island hopping in the 120-mile-long chain of islands in the Abacos, festive dinner parties, friendly competitions, and activities for the entire family. Calm, turquoise waters and warm weather make the Abacos a desirable destination for a relaxing getaway. The Denison team will lead the way with professional captains, a traveling mechanic, and an event coordinator. "This is our third year of doing this and will sure to be our best effort yet," says Bob Denison, President of Denison Yacht Sales. Registration is required and all proceeds benefit Joe DiMaggio Children's Hospital Foundation. Discounted dockage will be provided at local marinas and resorts. To register visit Abacos2015.com.
NV Charts updates
Region 9.1
NV Charts, a leading provider of charting products for navigation, announces the release of all chart sets, beginning with their popular Bahamas chart sets, in new Atlas-style format. The new format applies to their newly updated chart sets for Region 9.1, Bahamas Northwest, including Bimini and Berry Islands, Nassau to Abaco and Grand Bahama for 2015/2016. Region 9.1 Bahamas Northwest is designed for sailors, power boaters, fishermen, professional mariners, and cruising enthusiasts and includes 7 passage charts, 18 coastal charts, harbor and anchorage pilot book, GPS charted waypoints and approaches, a CD of digital charts (including free navigation software), tide tables, and recommended courses.
The chart set also includes the free NV Charts Mobile App for iOS and Android mobile devices for real-time navigation. The App includes free digital updates for this chart set for 2015/2016. All of the NV Charts Bahamas sets will soon be available in Atlas format. Check nvcharts.com for availability.
By Stephen Connett, Southern Boating May 2015