The Royal Bahamas Defense Force (RBDF) is now the primary search and rescue organization in The Bahamas. They work closely with the Bahamas Air Sea Rescue Association (BASRA), which has divisions in Nassau, Grand Bahama and Abaco. RBDF and BASRA have complementary capabilities: RBDF has communications and ships, and BASRA has rescue boats and an aircraft coupled with decades of experience serving vessels in distress. BASRA also maintains a long list of contacts in the family islands that can render assistance.
BASRA recommends the following procedures for vessels in distress:
Call Mayday on VHF 16 for assistance.
If known and within range, call a local marina or other marine facility to assist or relay communications.
Call Royal Bahamas Defense Force at (242) 362-2494.
Call BASRA at (242) 325-8864 (7AM-5PM seven days a week except public holidays).
Between Florida and The Bahamas call USCG at (305) 415-6800.
Call Operation Bahamas, Turks and Caicos (OpBAT) at (242) 325-0664 located in Nassau.
Although single-side band radio (SSB) is no longer monitored by BASRA or RBDF, it's still a smart investment for boats traveling east of Georgetown, and it is strongly recommended that cruisers invest in a satellite phone. All vessels transiting open waters should carry an emergency position indicating radio beacon (EPIRB). EPIRBs are monitored by satellite and will initiate search and rescue anywhere in the world. SOLAS approved flares should also be carried in international waters.

Captains should be aware that immediate assistance is not always available from rescue organizations in The Bahamas. The archipelago is too extensive, which is it is recommended that all vessels monitor VHF 16 when underway and day and night when at anchor in remote locations. Be mindful of the tradition of mariners aiding others in distress.
In short, be prepared: Communicate a float plan with someone reliable; ensure that your vessel has all the necessary equipment for your voyage; ensure that the crew is trained to use the equipment and execute emergency procedures.
BASRA is a non-profit organization that provides invaluable service. Stay safe when cruising The Bahamas and support BASRA by becoming a member. Visit basra.org or stop by a BASRA office.
Manatee in Hawksnest Marina
For many years manatees have been residents of Great Harbour Cay but infrequent visitors elsewhere in the islands. Through reproduction and migrations from Florida, they have multiplied and are dispersing throughout the islands. Almost all the manatees in The Bahamas are individually identifiable by the unique pattern of scars on their body and tail. Most have been named and The Bahamas Marine Mammal Research Organization (BMMRO) documents their movements throughout the islands. BMMRO has put satellite tags on several of the manatees but primarily relies on cruisers and locals throughout the islands who report sightings. The latest sightings are on their website, and they move around a lot more than most people expect.
Manatees have been observed in most of the major islands as far south as Mayaguana. An adult male was identified in Stella Maris, Salt Pond, Clarence Town, then moved to Cat Island, and is now in Harbour Island. If you see a manatee, enjoy its company and photograph it but please do not harass or feed it. Send your observations and photos to BMMRO at info@bahamaswhales.org
Flying Fish Marina
Located in Clarence Town on the east coast of Long Island, the Flying Fish Marina is an important facility for cruisers headed toward or returning from further east and south. The marina offers the last reliable fuel and supplies until you reach the Turks and Caicos or the Dominican Republic. You can also clear U.S. Customs at the marina. Sportfishermen should know that the Flying Fish Marina is centrally located for fishing the best areas in the southeast islands.
The marina has completed the reconstruction of its seawall and is almost finished rebuilding its docks. The wall in front of the marina office is being rebuilt to prevent erosion and to reduce the surge in the western docks. A new building will house a fine dining restaurant upstairs, a pool bar and grill downstairs, and the marina office and ship's store is well under construction and may be in operation by next spring. Contact dockmaster Marvin Cartwright at (242) 337-3430. flyingfishmarina.com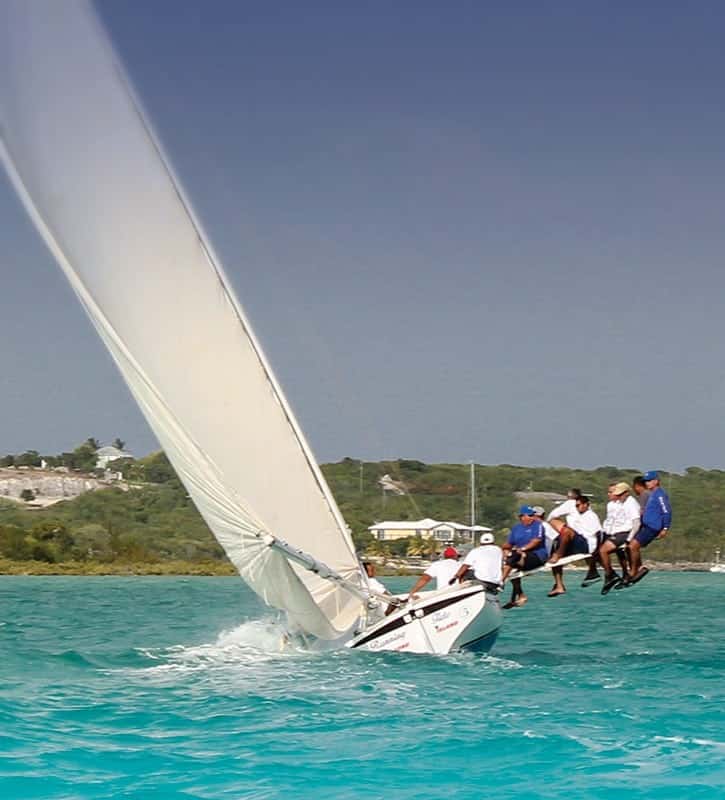 By Stephen Connett, Southern Boating December 2014