The exceptionally well-appointed 90 takes on the vaunted mantle of Viking's largest sportfish with a style all its own.
When the International Maritime Organization announced tier III emissions regulations a few years ago that would go into place in 2021, a chilling sense of disquiet fell over the typically cocksure and testosterone-driven sportfishing world. The previous decade had seen a considerable jump in the lengths of the ocean's biggest convertibles. There was a time when a 55-foot battlewagon was about all any fisherman could ever hope for, but these days 80-foot-plus is nearly par for the course. Perhaps none of those monster fishing boats was more iconic than the Viking 92, a leviathan that dotted the world from Cairns to Kona, Quepos to Baker's Bay. But with a load line length of more than 24 meters, it was on the chopping block. Unknown to many, this was the inception to developing the Viking 90.
Viking is no stranger to dealing with legislation poisonous to its business. The Healey family led the charge back in the 1990s when the luxury tax threatened the entire industry. Thus, the builder found itself back at the drawing board, quite literally in this case, designing a new flagship for its convertible line that would squeeze in just below the 24-meter limit without losing an inch of its commanding air.
So was born the Viking 90, which made her world debut at the 2023 Miami International Boat Show. Sitting front and center on the main docks, she was positioned to be the star of the show. And she didn't disappoint.

The Viking 90, Because Size Matters
Viking knew, of course, that it would have to make some compromises with this slightly smaller rig (the 92's LOA is 93 feet, 4 inches; the 90 is 90 feet even), but one place where it refused to budge was on the business end. The 90's cockpit is 224 square feet, the same size as the 92, and it is one hell of a dance floor. There's a 203-gallon livewell in the transom, twin 103-gallon in-sole fish boxes, and a gorgeously burled and finished fighting chair by Release Marine. The chair sits square over a powerful Seakeeper 35 that should nail the boat in place when bottom bashing or drifting. Just forward in the first row of mezzanine seating (there are three, but who's counting?) is a door to an engine room that houses optional twin 2,635-mhp MTU 16V 2000s and twin 40 kW Kohler gensets in a space with seven feet of headroom and a gleaming white gelcoat sole. 
The yacht's triple mezzanine seating is a coup, and a design built off customer feedback. Not surprisingly, on a boat meant to be hauling in some of the largest animals swimming in the sea, everybody on board wants a good seat to watch the action unfold. Viking accomplished this feat with a layer cake of seating options that gets more posh as you move forward. 
The first level of teak bench seating is for the fishermen. The second layer, with an upholstered settee for three, is for the anglers who aren't fishing. The third and highest layer is for everybody else, with an L-shaped dining settee, air-conditioned seatbacks, and a 43-inch fold-down television in the ceiling. Stowage compartments are scattered throughout the mezzanine levels under seats and armrests, with seemingly endless space for fishing gear and even a dedicated spot for storing shoes.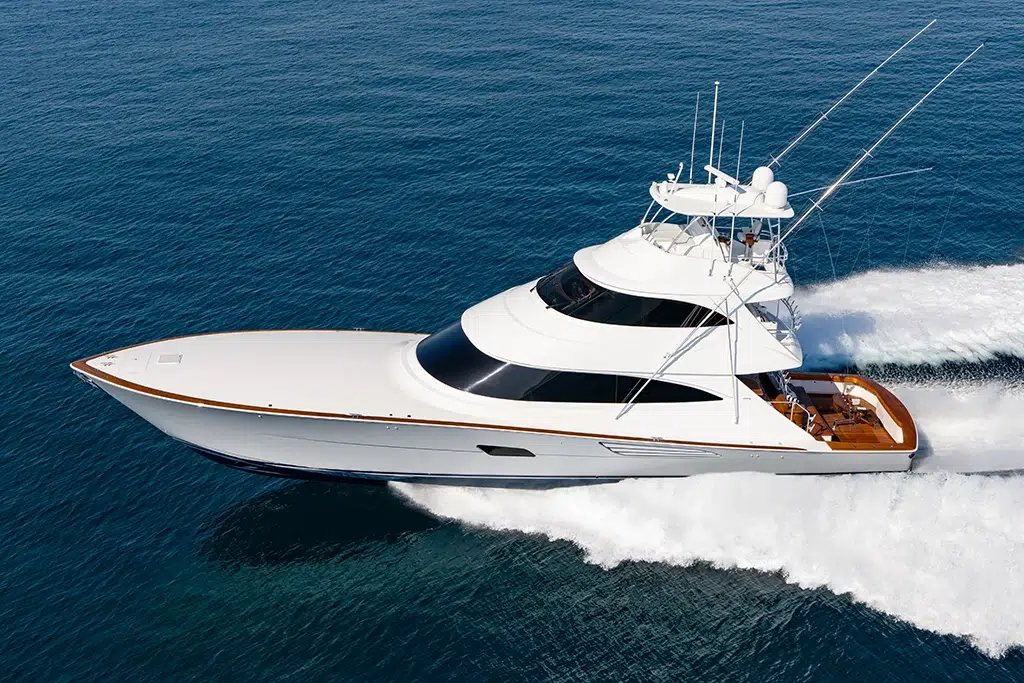 The mezzanines were sweet, as was expected, but it was the salon that made me say, "Holy cow!" A massive, L-shaped Lumix countertop to starboard is tastefully underlit and immediately grabs attention upon entering the space. The piece was first done on an 80 as a special order but comes standard on the 90. It is real yacht stuff. Truth be told, looking around the salon, you'd have to think hard to remember you were just in a fishing cockpit. High-gloss walnut throughout lends more than a touch of class and a 65-inch pop-up television to starboard makes rainy days fun. A secondary wet bar aft and to starboard with the same underlit counter as the primary bar only elevates the pursuit of leisure. It sits below an elegant floating staircase with tightly thatched leather braiding its handrail that leads up to the Viking's enclosed flybridge.
That flybridge is easily large enough to act as a second salon. These enclosed convertibles offer a few major advantages. One is that multiple groups on the boat can have their own space to get out of each other's hair if need be. It's also excellent for anglers with visions of chasing fish to far-flung destinations. As nice as wind in your hair can feel, if you're making the trek from South Florida to Cabo San Lucas, you're going to want as much protection from the elements as possible while running the boat.
To that end, the interior helm station is commanding—no pun intended. Five expansive Seatronx multifunction displays (MFDs) convey all manner of data which dances just below a single pane of unobstructed glass. Notably, the 90 is the first Viking to ever be designed for five MFDs. Omnidirectional sonar comes standard on the 90 and provides a 360-degree view of the fish around the boat. It's a feature some anglers say makes fishing so easy that it almost feels like cheating, but it's also a must for any boat that wants to compete at the highest levels. 
Lines of sight from the blue Stidd helm seat with slick, gray suede piping weren't quite 360 though, and you'll likely need proper posture to see the bow. Behind the helm was a comfortable L-shaped lounge with a hi-lo cocktail table and a dedicated Sub-Zero refrigerator for cold drinks back at the dock. The aft of the bridge deck had a high-gloss walnut pocket door that slid open to reveal a small mezzanine with seating and a command station for backing down on a fish.
A ladder from the mezzanine led up to the boat's skybridge, which is a Spartan affair, with one helm seat and maybe a handhold or two less than I'd like to see when you're a few dozen feet above the waterline. But it's a cool place to drive a boat! As I nestled into the Stidd chair and surveyed the Miami show from its highest point, I imagined dropping the hammer, hearing the gargantuan MTUs rev up, and flying out across the swells at the 90's reported 38-knot top end. I soon heard myself start humming Jimi Hendrix: "Excuse me, while I kiss the sky." It's that visceral experience that I suspect is the real draw for many future owners of this 90. 
The Game-changing Viking 90: A Fusion of Luxury and Premier Sportfishing Functionality
After conquering the world from on high, the 90 offers accommodations that will keep boaters well-rested for another day of fishing. The boat has a full-beam, amidships master with an island king berth, his-and-hers head, and a walk-in closet. There's even a makeup station—certainly not standard fare for a fishboat. But then again, this is a far cry from a normal convertible. With the 90, Viking reaches into other realms—particularly that of megayachts. That's what this boat feels like, especially with the high level of fit and finish and the attentiveness to space and ergonomics. If you owned a boat like this, the fishing could almost be an afterthought. But this is Viking after all, so let's make sure to put the emphasis on almost.
With this boat, Viking has once again shown itself to be a resilient and creative brand, two traits that have placed the heavyweight sportfish championship belt squarely around its waist. And with a new fishing flagship leading the way, that doesn't seem to be a title it will be relinquishing anytime soon. 
-by Kevin Koenig