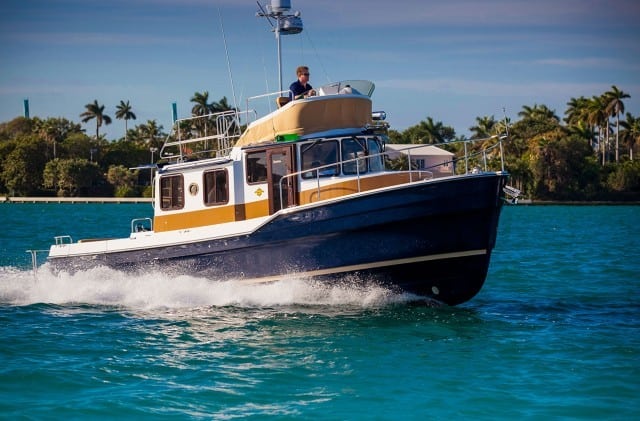 This trio of tugs are worth their salt
Three particular builders from the Pacific Northwest focus on trawlers that, stylistically, look like tugs, and are designed and built to take advantage of long-distance cruising. Ranger Tugs, Nordic Tugs, and American Tugs all sport tug-like upper works but feature semi-displacement hulls that offer better performance in speed and efficiency than their full-displacement counterparts. This trio of tugs has hull designs also provide great stability whether at rest or underway, and can handle weather and sea conditions normally associated with coastal cruising.
Even the smallest of these tug trawlers can easily accommodate a couple on a long cruise. They have comfortable berths, spacious full heads, and galleys appointed with ample food-prep countertops and stainless sinks. If equipped with a generator, the galley can be reminiscent of home with an electric cooktop, oven, microwave oven, and refrigerator. Heat and air conditioning are often available as options.
These three tugs also provide good fishing platforms with enough cockpit space to comfortably fight large game fish or haul in a fresh seafood dinner. Each can be easily equipped with downriggers and have electrical systems capable of supporting high-tech downrigger options. Equipped with a transmission trolling valve or a small bracket-mounted, outboard trolling motor, these boats perform well in a trolling situation.
The Ranger, Nordic and American tug trawlers all can accommodate a command bridge as an optional feature. The tug styling also allows plenty of natural light into the interior through opening windows and glass hatches that promote natural ventilation. The construction of all three vessels is such that—even in the driving rain or slashing spray—leaks are almost nonexistent since the builders' quality, fit and finish of the glasswork is of the highest grade. Expert craftsmanship is an attribute for which they all are known.
Ranger Tugs
Howard Smith developed the concept for Ranger Tugs and produced a five-eighths scale model of a Bristol Bay trawler in1958. In 1988, John Livingston and his family bought the builder through the family boat-building company, Fluid Motion LLC. Ranger continued to grow and develop new models and by 2009, it was ranked eighth in the U.S. in market share of fiberglass boats 24 feet and larger. By 2010, it ranked fifth in the same category. More than 1,000 Rangers have been sold in the U.S., and the company now has outlets in Australia and New Zealand.
John's father, Dave Livingston, is one of the best-known boat designers in the industry, having designed vessels for Reinell, Wellcraft, Regal, Livingston, and Bayliner, where he also served as president in 1988 and 1989.
From the outset, the Ranger line was built with a beam of 10 feet to allow trailering with minimum permits. This enabled Ranger owners to tow their boats from one cruising area to another quickly and inexpensively—it is not uncommon for Ranger owners in the Northeast to trailer their boat to Florida for the winter, or for west coast owners to trailer to Mexico. The Ranger line now includes 5 models from the original 21 to a 31-footer. The relatively shallow draft of Rangers allows them to safely poke around coastal areas, and with the launch of Cutwater boats in 2011, the builder was able to provide a sedan cruiser to buyers who prefer a less tug-like look. rangertugs.com
Nordic Tugs
In the mid-1970s, fuel prices soared and led to a demand for more fuel-efficient boats. Builders wrestled with the compromises that boating has always engendered when the industry has to make major changes to survive. This shift led the late Lynn Senour—a well-known and respected Pacific Northwest marine designer—to design what became the first of a line of tugs, the Nordic 26. Marketers speculated that women would see a tug style trawler as cute while men would see it as rugged. The single-engine 26-footer was introduced at the 1980 Seattle International Boat Show, and with a fuel burn of about one-half a gallon per hour at just more than six knots, the public had an opportunity to buy a cute, rugged-looking boat that was very economical to operate.
And buy it they did. Thirty-seven Nordic Tugs were sold during the show and by the end of the month of the show, 54 in all had been spoken for. Nordic continued to develop the product line and now has six models ranging from 26 to 54 feet. "We focus on cruisability," says CEO George Armendariz, who adds that all Nordics have a deep, heavy keel and are very fuel-efficient. "Our boats are ideal for long distance cruising by people who want to spend a lot of time on their boats. Many of our owners in the northeast U.S. regularly travel to Florida, and that type of trip is where Nordics excel."
Nordic Tugs is also currently producing glass hulls for Aspen Power Catamarans. One of Aspen's 32-footers laid up by Nordic, just became the first vessel to complete a non-stop trip around British Columbia's Vancouver Island without refueling. nordictugs.com
American Tugs
Tom Nelson "semi-retired" as a principal of Nordic Tugs but found he wasn't suited for semi-retirement. He re-entered the boat building business, and American Tugs was born. Because of his long relationship with Nelson, Lynn Senour was chosen as the designer. Nelson wanted a hull design similar to those used in the Alaska salmon fishery—one of the toughest and most brutal fisheries in the world—, which Senour was very acquainted with having designed many boats for that fishery.
The first American Tug was a 34-footer and the builder now has four models from 36 to 48 feet. In 2013, the company dissolved its dealer network and began selling direct to the public with a brokerage arm for previously-owned American Tugs.
The builder produces a vessel similar in many ways to the Nordic—not surprising since each used the same designer and Nelson himself is a former Nordic principal. However, American Tugs were designed from the onset to be beamier, creating volumetrically larger vessels than Nordics. American hulls also feature a hard chine, which makes for a more stable boat both underway and at rest. Prospective buyers are encouraged to be involved in the interior layout process and they are invited for a guided tour of the production plant. americantugs.com
Over many years, I have reviewed every model built by these builders and always found the boats to perform just as the builders have claimed. Each has different attributes, and once a prospective buyer decides what type of boating he or she desires, one of these builders will have a boat suitable for them. If you are in the market for a comfortable, efficient, well-built long-range cruiser, investigate one of these builders at one of this fall's boat shows. I doubt you will be disappointed.
By Roger McAfee, Southern Boating September 2014