A different type of "junk" food. The Bahamian festival of Junkanoo is an energetic, colorful parade that takes place December 26 –January 1. Ring in the New Year with some traditional Junkanoo food. All recipes serve 4.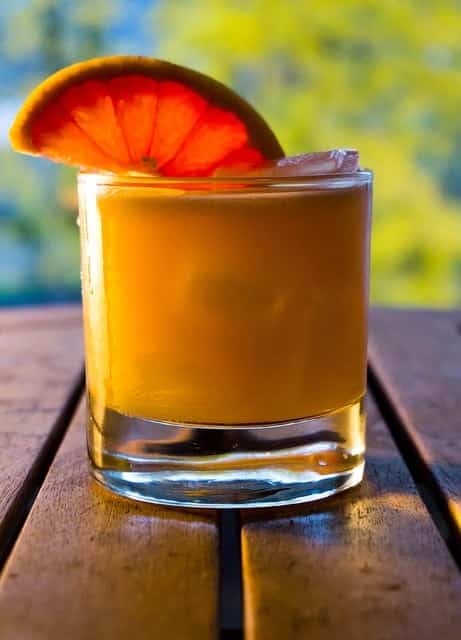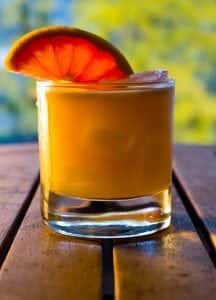 Junkanoo Punch
Ingredients:
4 oz. dark rum
8 dashes of Angostura bitters
6 oz. each orange and pineapple juice
4 tbsp. each grenadine and Cointreau
(or other orange liqueur)
1 orange, sliced
Directions: all the ingredients into a pitcher with ice and stir. Pour into festive glasses and garnish with an orange slice.

Junkanoo Chicken and Rice
Ingredients:
2 tbsp. soy sauce
1 tsp. garlic
1 tsp. sugar
3 boneless chicken breasts
6 tbsp. oil
½ cup chopped celery
2 cups sweet peppers, diced
1 cup sliced mushrooms
2 cups diced zucchini
1 cup onion, diced
1 cup uncooked rice
2 cups tomato juice
1-1/4 cups chicken broth
1 tsp. soy sauce
2 tbsp. cornstarch
1/2 tsp. ground ginger
Hot sauce (optional)
Directions:
For marinade, mix soy, garlic, and sugar in a medium-size bowl. Add chicken breasts, coat each and marinate for 30 minutes. Meanwhile, heat 3 tablespoons oil in a large skillet on medium-high. Add celery, peppers, mushrooms, and zucchini. Sauté for 5-8 minutes until softened, then transfer vegetables to a bowl. In same skillet, add 1 tablespoon oil and onions and cook for 5 minutes. Add rice and tomato juice and cook for 20-30 minutes until rice has absorbed liquid.
Transfer the red rice to a serving bowl. Grill or sauté chicken in 2 tablespoons oil until just cooked through. Cool and dice chicken breasts.
In a bowl, whisk together chicken broth, soy sauce, cornstarch, and ginger, and add to the skillet in which rice was cooked. Heat the broth over medium, then reduce to low and add vegetables and chicken to the mixture; cook stirring frequently until thickened, 2-3 minutes. Serve with red rice and hot sauce.
Bahamian Crab Bites
Ingredients:
16 slices of French baguette
2 tbsp. butter
2 cloves garlic, minced
8 oz. crabmeat (or small peeled shrimp)
4 tbsp. mayonnaise
Pinch of parsley
1 tsp. lemon juice
½ tsp. hot sauce
½ cup shredded cheese
Directions:
Melt butter with half of the minced garlic. Brush garlic butter onto one side of bread slices and place them buttered side up on a cookie sheet. Toast lightly under a broiler.
Combine the crabmeat, mayonnaise, parsley, lemon juice, and hot sauce, and spread the mixture on the toasted bread. Top each slice with cheese and broil until cheese is bubbling. Serve immediately.
Bahamian Baked Banana Custard
Ingredients:
1 tbsp. butter
4 ripe bananas
1 ½ tbsp. lemon juice
6 tbsp. sugar
Dash of nutmeg
½ cup breadcrumbs or granola
2 cups milk, warmed
3 eggs, beaten
Store-bought caramel sauce, warmed
Whipped cream
Directions:
Preheat oven to 350. Grease 4-6 one cup ramekins. In a large bowl, mash bananas then add lemon juice, nutmeg and 2 tbsp. sugar; mix well. Divide mixture equally into ramekins and top with breadcrumbs.
Combine warm milk, eggs and remaining sugar. Pour into ramekins over breadcrumbs and bake for 40-60 minutes until custard is set. Drizzle with caramel sauce and top with whipped cream. Custard may be served warm or made ahead of time and served room temperature.
By Lori Ross, Southern Boating Magazine December 2017