The Suzuki portable outboards mark a significant milestone in the marine industry.
Sometimes an event happens before your eyes and you take it at face value. More often than not, there's a backstory that adds an unexpected dimension to the event. And it is only by peering behind the curtain that you see the full meaning of the moment. That moment may have happened with the debut of Suzuki Portable Outboards.
When Suzuki introduced two new DF4A and DF6A portable outboards at the 2016 Miami International Boat Show in February, it might have seemed that this was only good news for Southern Boating readers who own small inflatables and tenders, or owners who were in the market for a technologically advanced kicker that meets clean air standards, replacing the two-stroke units that served them in the past. But the backstory of the DF4A and DF6A dual debuts marks the most recent progress in Suzuki's complete upgrade of their 39 model outboard line. That is a significant achievement in terms of design, engineering, production, and delivery to the U.S. boating market, and one that Suzuki values highly.
Teaching an old dog new tricks
The global company has consistently demonstrated its proven technology and experience for designing lightweight and efficient, cleaner-burning, four-stroke high-output engines for a worldwide market, encompassing automobiles, motorcycles, all-terrain vehicles, and marine outboards.
Twenty years ago, Suzuki introduced its innovation-award-winning 60- and 70-hp outboards, then the highest horsepower four-strokes on the market, which marked a turning point in the marine industry's general conversion to more efficient and eco-friendly outboards. Over the next 10 years, Suzuki introduced new four-stroke outboards every year, including the DF250AP, the industry's first 250-hp outboard in V6 rather than V8 configuration, and then built on that achievement just a couple of years later with the DF300AP, the first 300-hp V6.
"As we develop our new motors, including the new Suzuki Portable Outboards, we're making them lighter, quieter, more fuel efficient and more reliable than ever," says David Greenwood, Suzuki's product application manager, who adds that the outboards carrying the 'A' designation are the next generation products. "Excluding the 2.5-hp portable, we have migrated the entire line of outboards to next-generation technologies," shares Greenwood. "In all of our motors down to the 15-hp models, we've incorporated our Lean Burn technology, which gives you 20 to 24 percent better economy running on plane in mid-range cruising speeds. We've done this while staying in compliance with clean air standards like the 3-Star Ultra-Low Emission rating from the California Air Resources Board, or CARB, and the EPA 2010 standard."
Burn (clean) baby, burn
Some of the larger motors are equipped with O2 and NOX sensors to determine how clean the burn is and, along with a variety of other sensors—cylinder temperature, air temperature, oil temperature, air pressure, and throttle position just to name a few—feed critical data into the engine control module (ECM), the data it needs to determine how much and when a specific volume of fuel is injected into individual cylinders. "Lean Burn comes into play at the 1600 to 1800 rpm range and stays active through 5000 to 5200 rpm," says Greenwood. "In that rpm window, combustion temperatures aren't as hot as WOT (wide open throttle) temperatures, so you can lean down the fuel/air mixture and achieve 22 to 24 percent better efficiency."
Over the past several years, Suzuki updated and upgraded each of those outboards, including the new 250- and 300-hp outboards, with electronic throttle and shift controls as well as the company's trademark Suzuki Selective Rotation (SSR). SSR gearboxes are capable of running in standard or counter rotation with the flip of a switch, meaning that there is no need for dealers to stock two separate gearboxes for each motor. You need only specify the proper left- or right-hand propeller.
Suzuki has also extended fuel injection all the way down to its 9.9-hp model (9.9- to 30-hp models all feature Suzuki's unique, industry-leading, batteryless, electronic fuel injection system) for the most complete offering of EFI outboards in the industry.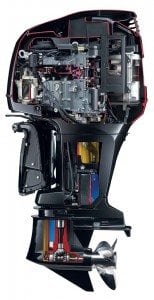 "The new 4- and 6-hp 4-stroke outboards are the lightest in their class," Greenwood says. "They boast impressive fuel economy, they're easy to start (which means there's no need to take the hood off and prime the fuel system), and perhaps most importantly, they can be stored on either port, starboard or front sides, so you don't have to worry about fouling the cylinder with oil or leaving a puddle of oil on the deck."
Modern Marvels
Both the DF4A and the DF6A are engineering marvels. They weigh in at around 52 pounds for increased ease of portability and have a charging system that produces enough power to operate small boat navigation lights. The forced lubrication system has additional passages for the upper and lower crankshaft as well as the connecting rod big end and a first-in-class oil filter for longer engine life.
The off-center crankshaft reduces lateral pressure on the cylinder walls and makes for smoother operation. Low noise levels are achieved with an optimized air intake silencer. New fuel and oil systems allow these new models to be stored horizontally on the front or either side without leaks—of prime importance when you store your kicker in a cockpit locker. Once installed on the transom, these new outboards offer full up, full down and a three-angle position for operating in shallow waters.
In the years to come, expect constant refinements and upgrades in all Suzuki engineering areas and Suzuki models. Now that the entire outboard line utilizes four-stroke configuration, rest assured that Suzuki's commitment to improving power output, fuel efficiency, reliability, comfort, and ease of operation will continue to lead new product development in the future. Suzuki Portable Outboards are just the begining.
— By John Wooldridge, Southern Boating Magazine July 2016
INFORMATION
suzukimarine.com