In September, the 2017 National Marine Electronics Association (NMEA 2017) conference was held in Bellevue, Washington. The sold-out expo featured around 50 exhibitors showcasing their products to dealers, distributors, installers, and the media. Take a look at some of the interesting new products that we saw at the show.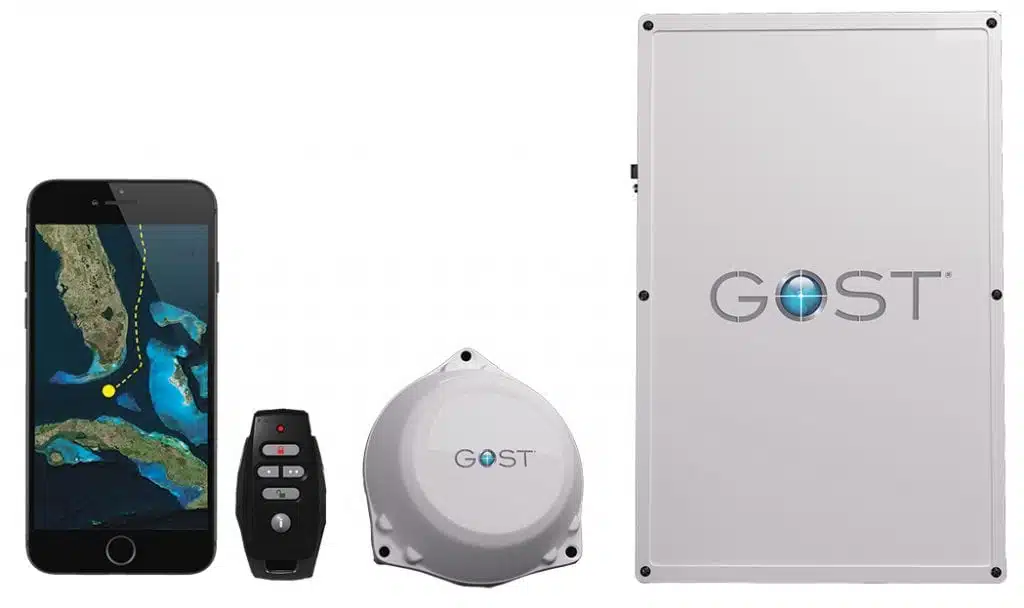 GOST Apparition
The new GOST Apparition system provides advanced onboard security and monitoring. Highly customizable, it centers around touchscreen displays that can connect to a vast array of wired and wireless sensors. It can also be controlled by Smartphone or tablet. Key fob or card control can limit access to areas of the vessel keeping contractors
isolated to work areas like engine rooms and decks.
Similarly, guests can access accommodation areas but be kept out of sensitive engineering spaces. With capabilities of up to 192 sensors and access control of up to 32 doors, the system is perfect for large yachts. Available features include GPS tracking, cellular and satellite monitoring, live HD camera feeds, video backup systems, and more.
MSRP $3,000 for the basic system (price varies by number of sensors and features); gostglobal.com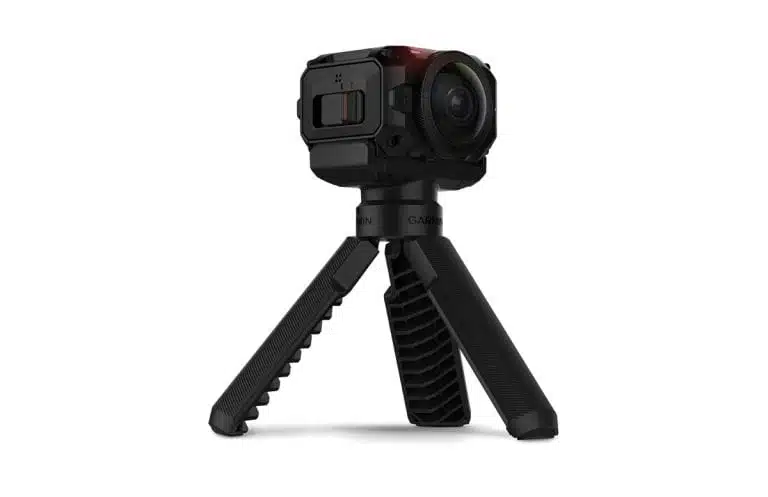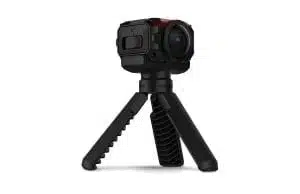 Garmin VIRB 360 Camera
The VIRB 360 recently started shipping. The VIRB 360 takes waterproof VIRB cameras to another dimension. This rugged waterproof camera fi lms 360 degrees in either still or video, and four microphones provide quadrophonic sound to match the 360 video. The camera stitches the images from multiple cameras together inside the unit allowing for quick viewing of the video. Simply set the camera up to play and watch. The VIRB mobile app or desktop package helps users share and edit the results. VIRB can record for more than one hour per charge. Internal spherical stabilization keeps the video running smoothly even in adverse conditions. The camera is waterproof to 10 meters allowing 360-degree video above and below the water while fishing, wakeboarding or simply exploring in boats large or small.
Check out 360 videos at garmin.com; MSRP $799.99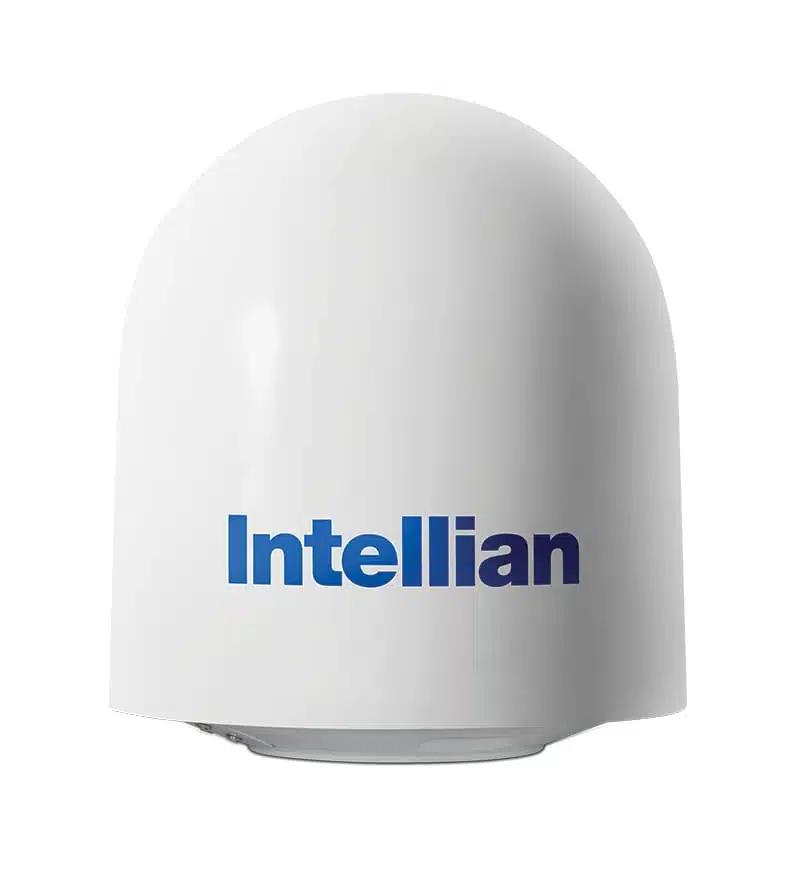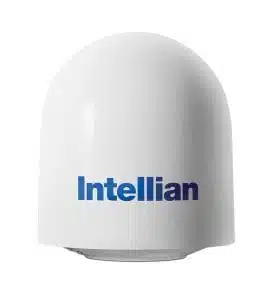 INTELLIAN V65
This 65cm VSAT antenna is designed to operate and perform comparably to larger 85cm antennas while saving weight and space. Intellian uses advanced RF components to enhance signal strength and clarity achieving superior gain and isolation as compared with other antennas in this size range. The V65 is also the fi rst 60cm class antenna capable of being converted easily from KU to KA band; a conversion kit is required, but it is an easy onboard change out. This allows vessel owners to run on either frequency depending on where they are traveling, their communication needs and provider preferences.
MSRP $34,000; intelliantech.com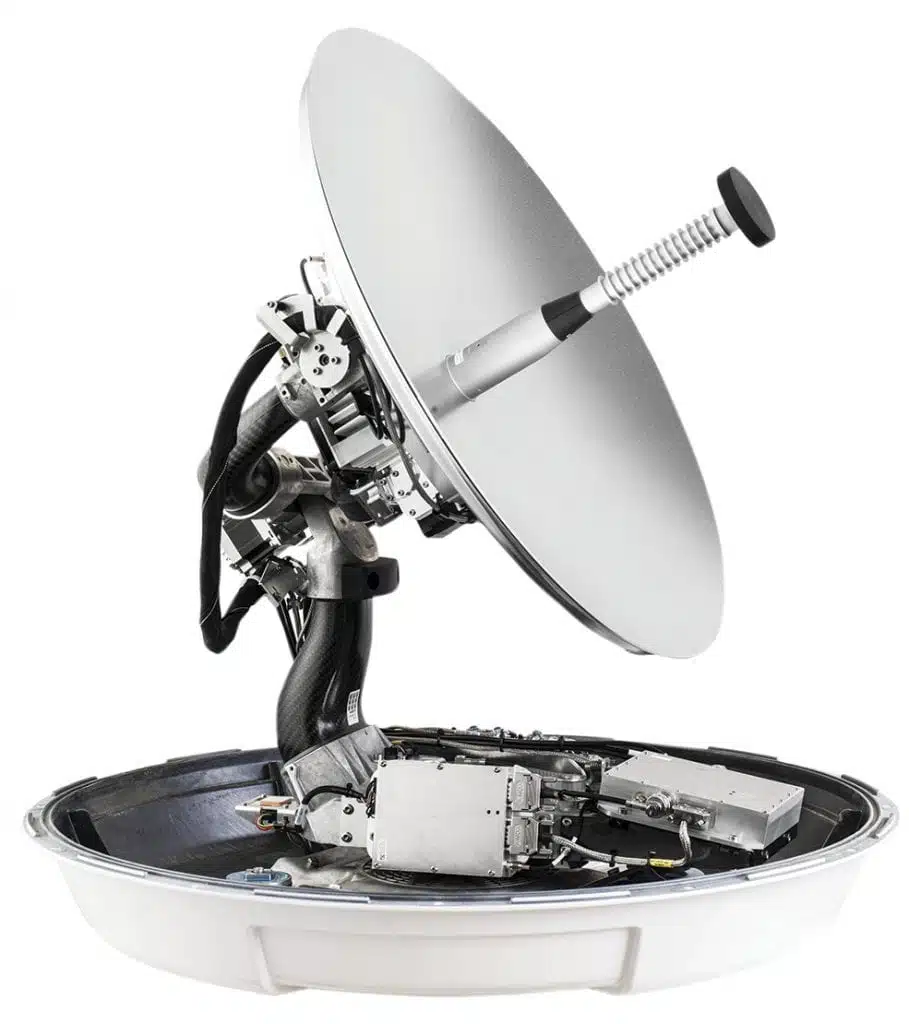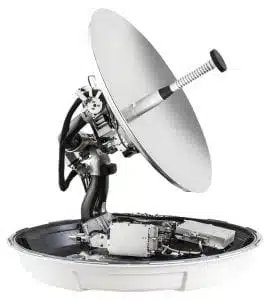 COBHAM SAILOR 600 VSAT KU
High-tech construction and advanced materials like carbon fiber and infused aluminum keep the weight of this KU band VSAT antenna at 77 lbs. Single cable connectivity includes power, transmit and receive combined. Automatic cable and
Azimuth calibration make installation easy. The antenna is self-balancing and has internal dynamic motor brakes eliminating the need for mechanical straps and keeping the antenna balanced when not powered up or during transport. This means the antenna can be moved and installed without having to remove the cover. The Cobham SATCOM 3D catalog App provides specifications and 3D images of their products.
MSRP $35,495; cobham.com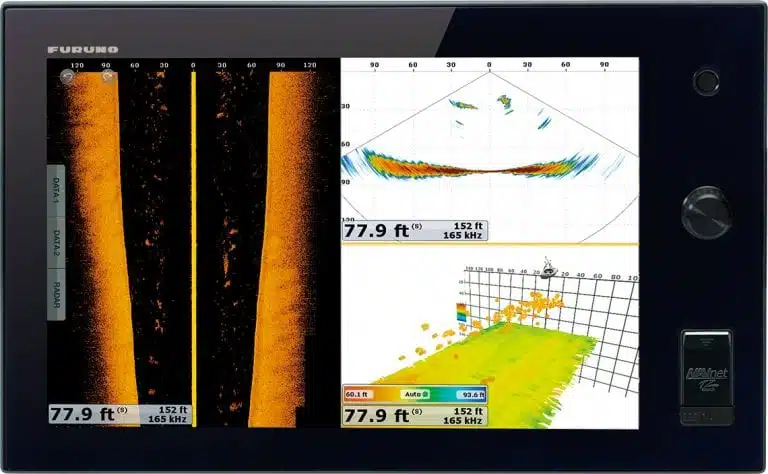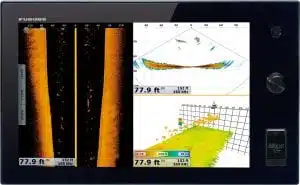 FURUNO DFF3D Multi Beam Sonar
The latest from FURUNO, the DFF3D connects to existing NavNet TZtouch(1 or 2) MFDs or MaxSea Time Zero to provide advanced sonar capabilities. FURUNO combines rapid processing with a new multi-beam transducer to show both structure and fish in a wide swath beneath the boat, even in deep water. The lower frequency 165kHz penetrates far deeper than other 3D systems and combined with image stabilization provides accurate coverage while the boat is rolling. The 120-degree multi-beam consists of 40-3 degree slices that cover up to 650 feet of the sea bottom at once, depending on conditions. Users can see which side of the boat fish are on as well as bottom contours and their direction and proximity to the boat.
Fully customizable modes include traditional down-sounding, tri-beam with three views (left, center and right), cross section, side scan, and graphic 3D imaging. Because the wide beam covers so much ground, finding wrecks and other bottom structures is easier for less time searching and more time fishing. Not only are fish visible in the water column on top of a wreck or a rock, but the multi beam shows when they are off to the side. This allows more accurate species identification and targeting. Because the frequencies don't interfere, existing sounders can run at the same time as the multibeam sonar or combine it all into a combo transducer that has all elements in one compact unit.
MSRP $2,095 (without transducer), thru-hull multifunction transducer MSRP $1,900; furuno.com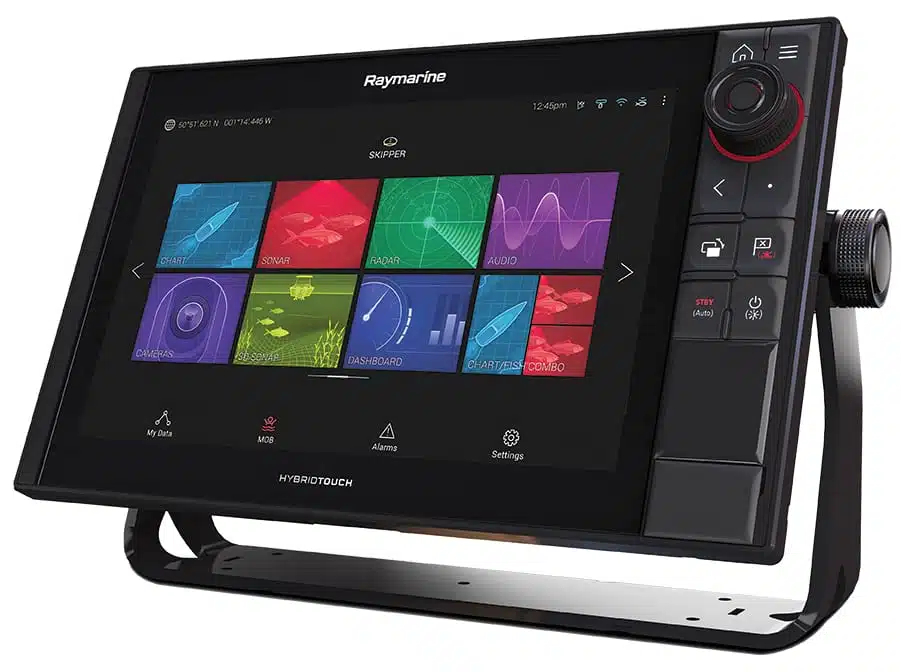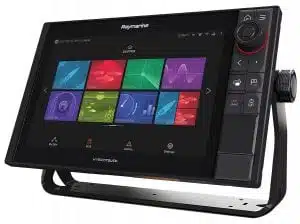 Raymarine Axiom Pro 12
The Axiom Pro series of MFDs uses touchscreen controls (9″, 12″, 16″) as well as a keypad (which some users prefer, particularly in rough conditions). The Pro series uses Raymarine's new LightHouse3 operating system and a fast, internal quad core processor. The Axiom PRO(S) comes with a single channel 1kW CHIRP sonar.
The PRO (RVX) configuration provides both the CHIRP sonar and RealVision 3D. The 3D mode shows the fish in the same colors as the 2D display making target matching easier. The dual-mode transducer provides deeper water capabilities and the power to penetrate baitfish and thermoclines with all the detail and perspective of 3D. Rewind, pause, and playback controls make it easy to set waypoints and examine fish and bottom structure. Axiom Pro uses a variety of cartography choices from Navionics, C-Map and Lighthouse charts.
MSRP $3,849.99 (12″ CHIRP, 3D, LH charts); raymarine.com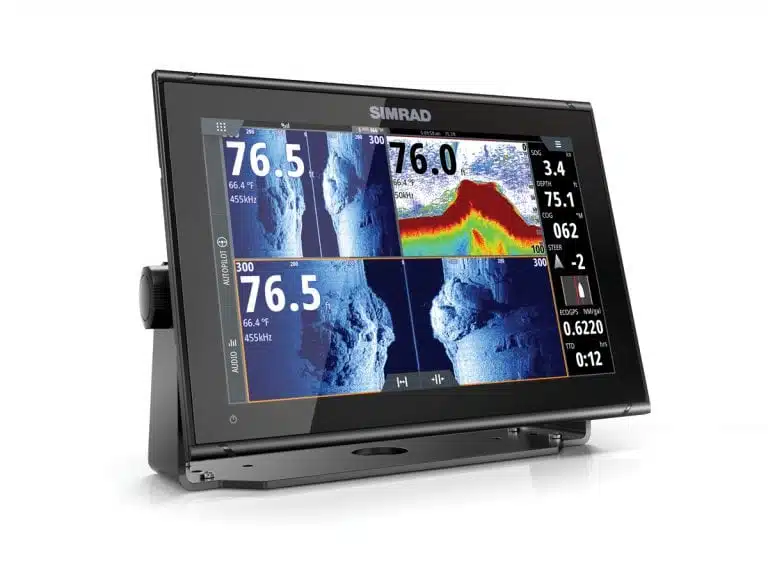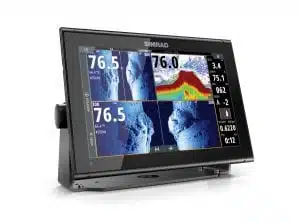 SIMRAD GO12 XSE
The SIMRAD GO12 XSE is the newest and largest of the powerful GO series multi-function displays (MFD). It acts as a stand-alone chartplotter/ fishfinder combo with a built-in GPS and a bright 12″ multi-touch display, or it connects to other devices to display and control many onboard functions. Plug-and-play options like SIMRAD Broadband or Halo pulse compression radar systems make it easy to do more. Wireless connectivity and NMEA 2000 allow interfacing of a broad array of systems including autopilot controls, entertainment systems, engine monitoring, Sirius XM weather, and more.
The sophisticated fish finder uses CHIRP technology to show fish and bottom contours in the water column, or switch to "StructureScan" for HD sidescan imaging all from the same multifunction transducer. With up to four customizable viewing areas, both fish-finding modes can run simultaneously along with other navigation functions.
MSRP $3,999; simrad-yachting.com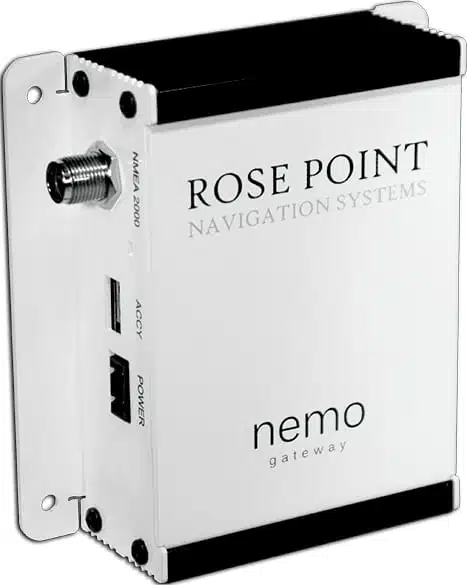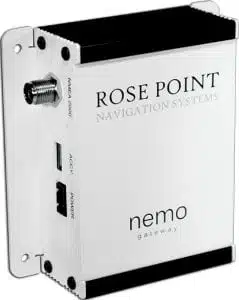 ROSE POINT NAVIGATION SYSTEMS NEMO
Rose Point, the creators of Coastal Explorer PC-based navigation and charting software, recently released the NEMO gateway. NEMO allows boaters to connect onboard data systems to multiple devices at the same time.
It also allows users with older devices that use NMEA 0183 to connect at the same time as newer NMEA 2000 devices by translating the signals. NEMO works with Rose Point products and also connects other onboard data systems to provide PCs, tablets, and phones access to your marine electronics. An Ethernet interface allows you to control onboard electronics like an autopilot using multiple devices. Plug NEMO into a common household router and wireless apps and devices will interface with your onboard NMEA-compatible electronics.
MSRP $599; rosepoint.com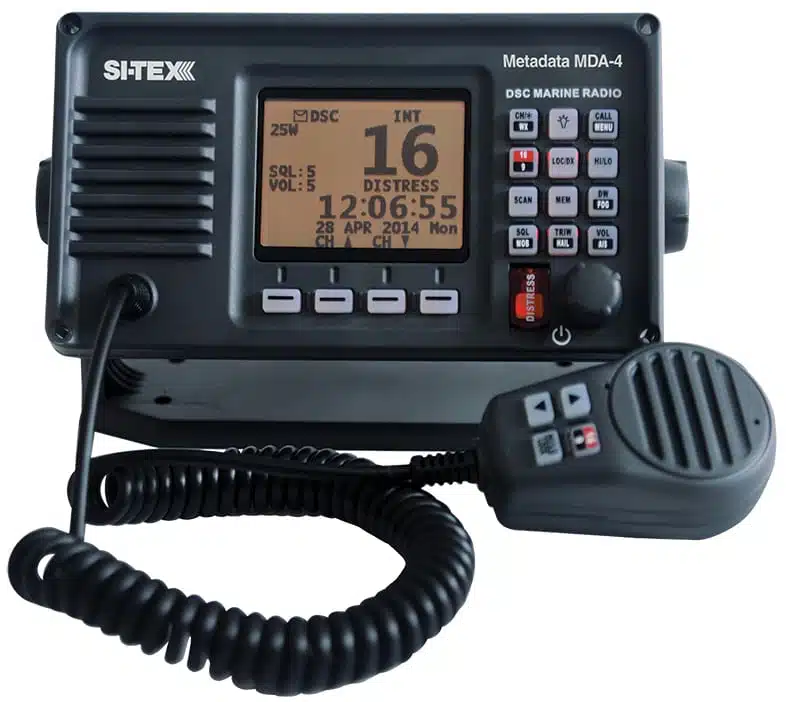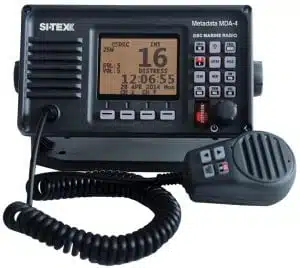 SITEX
The SITEX MDA-4 is a new VHF radio with DSC and a built-in dual channel AIS receiver. Built to MilSpec 801G, it is designed to handle rugged, wet conditions on board. It has a host of features including Dual and Tri-watch to monitor multiple channels at once, programmable scanning, a built-in 25- watt hailer with selectable automatic foghorns, and listen back. A large LCD screen displays AIS data including MMSI, call sign, ship's name, bearing, distance, speed, course over ground, and closest point of approach with alerts.
MSRP $459; si-tex.com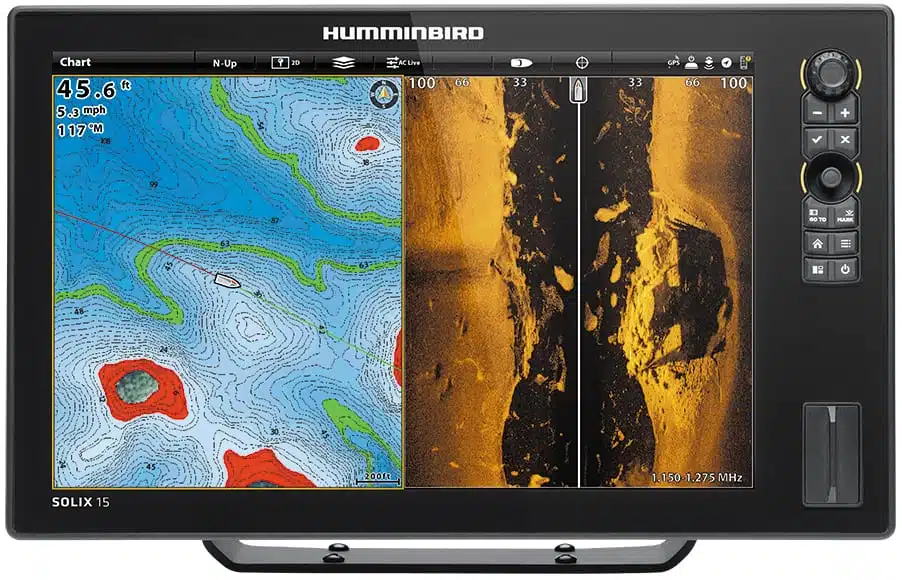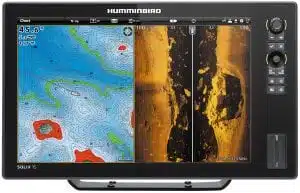 Humminbird Solix MEGA15
This new fish finder from Humminbird has a bright sunlight-readable, color touchscreen, 15.4″ diagonal display, but also has buttons and a toggle/joystick to control it. It is easily customizable, has a GPS built into the unit and can interface with optional radar and autopilot modules. NMEA 2000, 0183 and ethernet ports are standard. Dual card slots allow multiple chart formats to run simultaneously and switching between cartography.
Both Navionics and Humminbird charts are supported including their LakeMaster series for inland fishing. The Solix MEGA15 uses a sophisticated Airmar CHIRP transducer. The ultrahigh frequency 1.2MHz provides better target resolution and separation than lower frequency transducers do. The drawback is depth; in MEGA mode images are extremely crisp and clear but only to about 100′. (They claim 125′ down and 250′ side to side.) With 455kHz the depth penetration is better: 800′ down, 400′ side to side, but target resolution suffers.
The higher frequency also covers a lot more ground as the cone angle is wider meaning more structure is visible and more information is available about where the fish are in relation to the boat. MSRP $3,499; humminbird.com
By Arnie Hammerman, Southern Boating December 2017