Not a Sound
Silent-Yachts is making big strides in solar-electric power both on the water and on shore.
I was standing on the Silent 60 flybridge chatting with another guest prior to leaving the dock for a test ride when we both suddenly realized we were drifting in the middle of the canal. Somewhat alarmed, it was obvious we were off the dock, but there was no sound from any engine, and I didn't feel any gears shift or remember feeling the lines thrown aboard. I'm usually keen to those sounds having been a captain on various vessels for more than 20 years. 
When I went down to the main deck to see if everything was okay, it was clear I forgot I was on the "silent" 60, a new solar-electric catamaran from Silent-Yachts. 
I admit I was pretty astonished as we "motored" down the canal and out into Fort Lauderdale's Intracoastal Waterway. The boat was gliding along silently, and the guests were conversing as if they were in their living room.


So Much Room
Some may shy away from the modern, squared-off look of the Silent 60's exterior, but there's no doubt that once aboard, they'll feel like they've stepped into a huge, luxurious waterfront home. Large windows surround the main cabin that is nearly 30-feet wide has more than seven feet of headroom. The open floorplan puts the galley aft, which is actually about midship from bow to stern and, like a home, becomes a central gathering spot. When the salon's sliders are open, including the window slider along the aft galley countertop, the main deck quickly turns into a large outdoor veranda.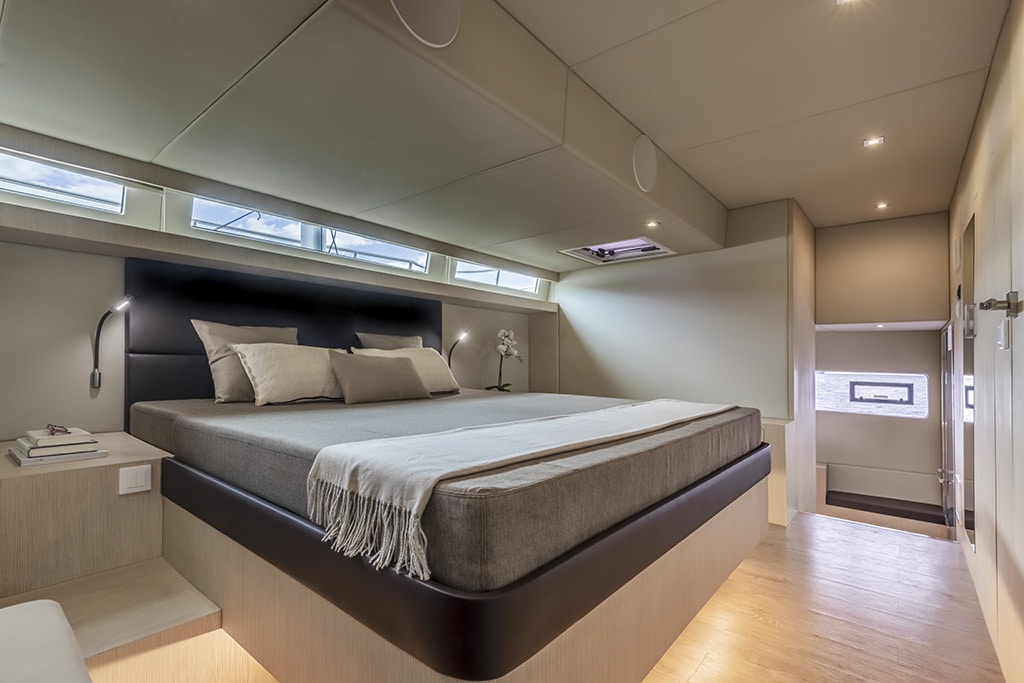 A short set of steps mid-cabin lead down to each hull where owners have options for up to four spacious staterooms with or without a forward main-deck master. In lieu of the main-deck master, a forward access door leads to the bow deck with recessed, balcony-type seating. 
Off the aft deck, steps take you to an extended swim platform off each hull. Access to the mechanical space is under the steps. A tender deck hydraulically raises and lowers and after launched, the swim platform extends full beam.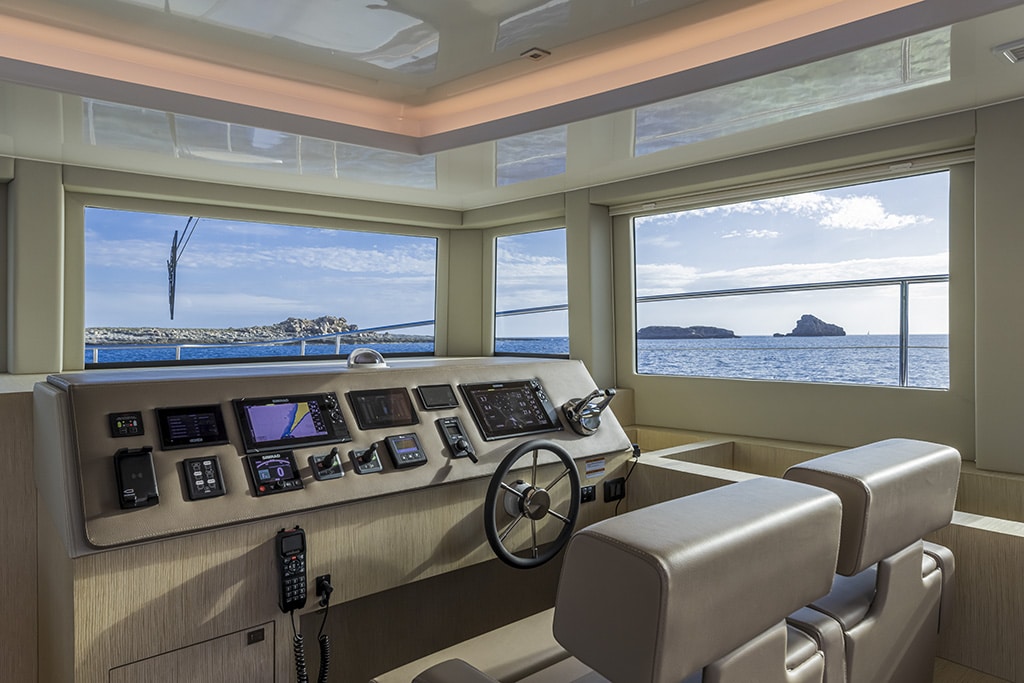 I went back up to the flybridge, now that I knew we were under control and not drifting away with the current. On this sunny, warm day, it was the place to be for that elevated, 360-degree view. A full helm station and a U-shaped settee offer a large, comfortable area to relax, with shade provided by the folding roof. That's right, the roof folds down to completely cover the flybridge when use will be minimal, such as during an overnight or ocean crossing. Like the entire main-deck roof, it also carries an array of solar panels, the "fuel" for the Silent 60's power. 

Powerful Possibilities
There are three motor options for the Silent 60: Cruiser (twin 50 kW), E-Power (twin 200 kW), and E-Power+ (twin 340 kW) E-motors. The lithium batteries and generator power ratings increase with each as does top speed, with the E-Power+ reaching 13-20 knots. 
"In the daytime you could run on full solar, especially on a day like today where it's a cool breeze and full sun; that's the best conditions," says Capt. Kyle Miller, Silent-Yachts' brand ambassador. He notes that the breeze helps keep the panels cool. "When you do an overnight, yes, you could, theoretically, go along indefinitely, if you'd like to do a very slow speed, but realistically, you're going to use the batteries. You can spend a day, move around, make food, drinks, spend time in the sun, run the air conditioner; you can do all those things as long as you're staying in the same general area. We can go up to West Palm or we can go down to Miami today, and I would not have to turn on the generator once."
But that's something to note. The Silent 60 has power options designed for its use. If you're going to cruise along the coast or take the Intracoastal and time isn't a factor, then the Cruiser power package is perfect, but for those planning on going farther out or on a longer voyage where wind, waves, and currents can push you around, the E-Power+ might be the better choice because it combines the largest battery bank with the strongest electric motors available. You still won't go much beyond cruise speed, unless you need to outrun an oncoming storm, but as with life, it's about the ride, not the destination.
Miller also made the point that although batteries are an important part, it's the solar panels that take the lead. "Battery technology is such a minor component of this," he says. "Solar panel technology is a way bigger definer for the boating world, so like for cars, battery technology was the most important part, but for boats, you need to produce electric energy. If you doubled solar technology right now, we would have twice the speed and twice the range."

Land and Sea
Silent-Yachts is also taking its technology to shore. Starting with the idea of a docking station where yachts could be used as floating villas, the concept has grown immensely with Club Ki'ama Bahamas. The development will be the first residence club to offer luxurious solar-powered oceanfront homes with a fleet of Silent solar-powered yachts as well as electric day boats in a protected marina, six private beaches, a beach club, spa, and restaurant for owners. Located on Elizabeth Island, part of Exuma's island chain, construction began in June, and will leave most of the property's natural habitat undisturbed. 
Silent-Yachts and Silent-Resorts design their yachts and resorts to protect the world's ecologically sensitive environment while providing luxurious and comfortable spaces to enjoy it. 
-by Steve Davis