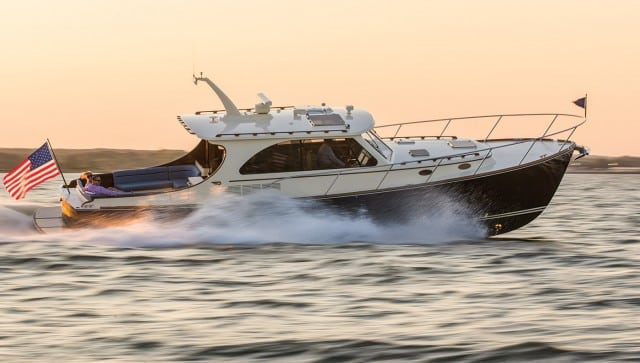 Proportional Perfection
Hinckley Yachts launches yet another winning addition to their iconic Picnic Boat line-up.
With its new Talaria 43, Hinckley Yachts has managed to get both the big things and the little things just right. For the big picture, take a look at the 43's profile. The 43 is a big boat. In fact, the beam is one foot more than the beam of the 44 that it replaces but the proportions are almost perfect. On a smaller scale, consider this: Hinckley makes the toe rail out of eight pieces of Burmese teak and then covers them with exactly ten coats of varnish. The overall result is stunning.
The new Hinckley 43 is a blend of traditional made-in-Maine craftsmanship with the latest cutting-edge technology. The lobster-boat-inspired profile is classic, the shear line is long and flowing, the hull curves are just right, and the tumblehome is sensuous and eye-catching. But inside lie some head-turning surprises, particularly the new patent-pending mechanism that electrically lowers the windows in the port and starboard aft bulkheads and the window in the aft door and then slides the door into the port bulkhead. Push a button on the dash—the windows and door disappear, and the elegant climate-controlled motor yacht morphs into a jaunty open sport boat with an open-air socializing area from helm to transom. "Other boats have windows that retract," says Jim McManus, Hinckley's president and CEO, "but Hinckley is the first to make the door retract fully as well."
Hinckley also improved its patented JetStick fingertip controls in the 43, which work with the boat's twin Hamilton water jets and standard bow thruster to provide pinpoint maneuverability and worry-free docking. The new JetStick II on this boat has Hover Lock—a station-keeping program that keeps the boat in place while you're waiting for a bridge to open or an empty space on the fuel dock—and Heading Hold, which keeps your boat's course on track at low speeds. Hinckley also offers its own PalmStick, an elegant teak wireless remote about the size of two decks of cards that comes with finger insets to fit easily into your hand. An $11,992 option, the PalmStick remote allows you to control the helm-based JetStick from anywhere on the boat—standing in the cockpit, say, or next to the pulpit for a better view.