MAKING THE GRADE
Marine electronics haven't made big strides lately, but some have
definitely made headway into the marketplace.
By Steve Davis and Zuzana Prochazka
Electronic manufacturers have been somewhat quiet since March, but even with the lack of boat and trade shows to announce their latest products, there is progress in their

navigation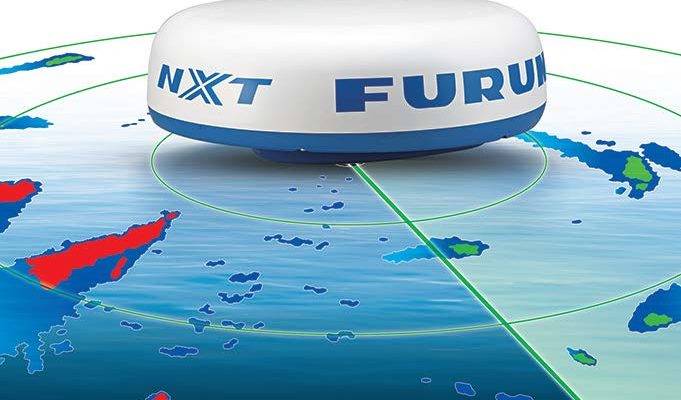 FURUNO continues to excel in technological advances and again earned a 2020 National Marine Electronics Association (NMEA) award for its DRS4D-NXT SOLID-STATE DOPPLER RADAR. The compact 24-inch radome features Furuno's innovative technologies, such as Target Analyzer, where objects change color depending on whether they are approaching or moving away, and Fast Target Tracking that displays a selected target's speed and course vector. The DRS4D-NXT is the first Furuno Radar to utilize its exclusive RezBoost Beam Sharpening that provides an incredibly detailed radar image with more targets and less clutter, and Bird Mode to help identify birds gathering around schools of fish.
MSRP $2,600 | furunousa.com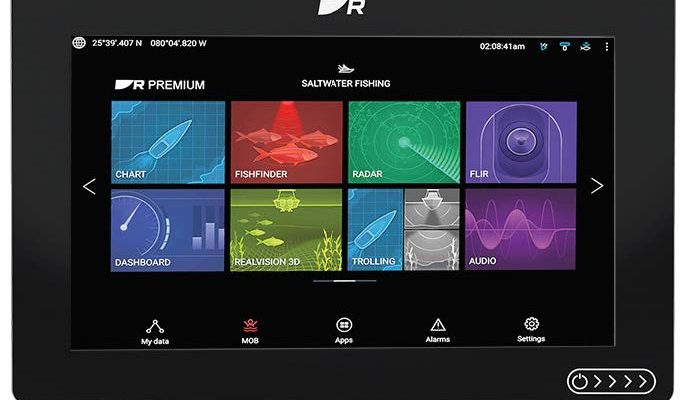 RAYMARINE's successor to its Axiom line of multifunction displays is the new faster and clearer AXIOM+ RANGE. The displays have lightning-fast chart redraw, optional integrated multi-channel sonar, 16 GB storage, and augmented reality navigation capability worthy of a James Bond movie. A 25 percent increase in brightness makes the screens easier to see in glaring sunlight and allows for wider viewing angles. The HydroTough, nano-coated, impact-resistant glass stays smudge-free even when handled by sunscreen-covered fingers. An improved user interface adds new fonts and graphics as well as more realistic gauge icons so the information is clearer and intuitive, and the optional RealVision 3D sonar delivers an amazingly accurate view of what's below the waterline.
MSRP from $749 | raymarine.com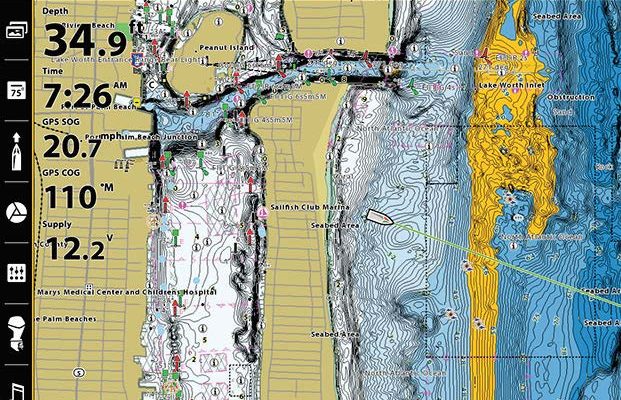 Anglers just got a leg up with U.S. coastal charts from HUMMINBIRD. The new COASTMASTER CHARTS provide East, West, and Gulf Coast coverage on a single card. Saltwater captains will find information to increase their luck with spot soundings, detailed depth contours, and a predictive tides and currents tool. The depth ranges, especially, are a wealth of information with the ability to adjust contours to current water levels. Fast-loading panning and zooming means better targeting and more catching. The One-Boat Network pairs a Humminbird chartplotter with the new charts and integrates Minn Kota trolling motor control. CoastMaster is compatible with the company's HELIX G3/G3N and all SOLIX chartplotter models.
MSRP $150 | humminbird.com
SI-TEX's MDS-12 4kW NETWORK DIGITAL RADOME RADAR is compact (24-inch diameter) and has an internal Wi-Fi module to wirelessly connect to the NavPro units—no cables between the MFD and the scanner, just a power connection to the antenna. On center consoles and other boats with limited space, this is a big bonus. The MDS-12 radar incorporates an array of features, such as an adjustable Variable Range Marker and Electronic Bearing line function to provide for precise range and bearing information, color shades to show the target's intensity, and Sensitivity Time Control that reduces sea clutter. SI-TEX's navigation charting systems deliver precision navigation and the latest C-MAP 4D cartography.
MSRP $1,599 | si-tex.com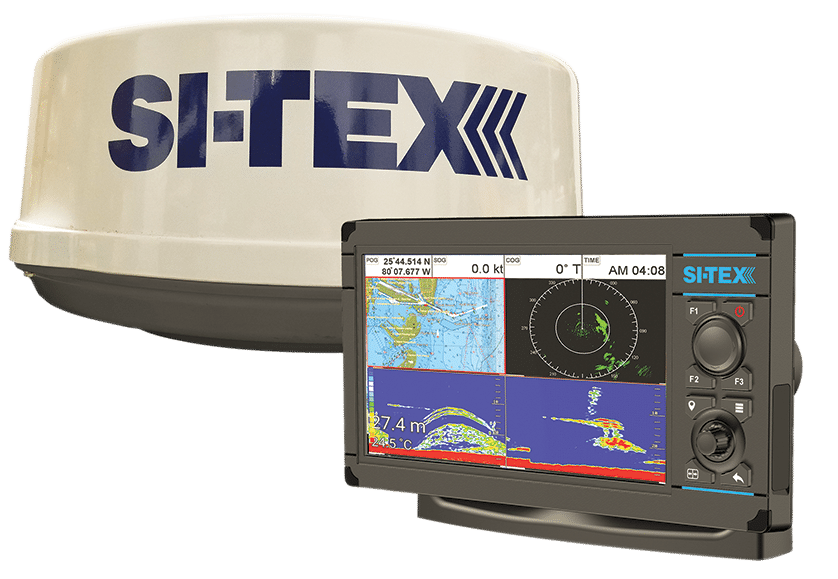 security
SIREN MARINE's SIREN 3 PRO is a comprehensive and powerful vessel-monitoring tool that provides boat owners a watchful eye on their boat when not on board. Through the free Siren Marine app on iOS or Android-based smartphones, tablets, and computers, boaters receive data about their boat 24/7 and have the power of digital switching at their fingertips. The Siren 3 Pro features built-in GPS position/geo-fence tracking that alerts an owner if the boat moves without his presence, battery monitoring, and NMEA 2000 connectivity that opens up the full power of digital switching. The system has the ability to monitor a variety of conditions on board, such as bilge water levels and shore power status as well as detect unauthorized access through doors, hatches, and canvas covers.
MSRP $749.99 for base device | sirenmarine.com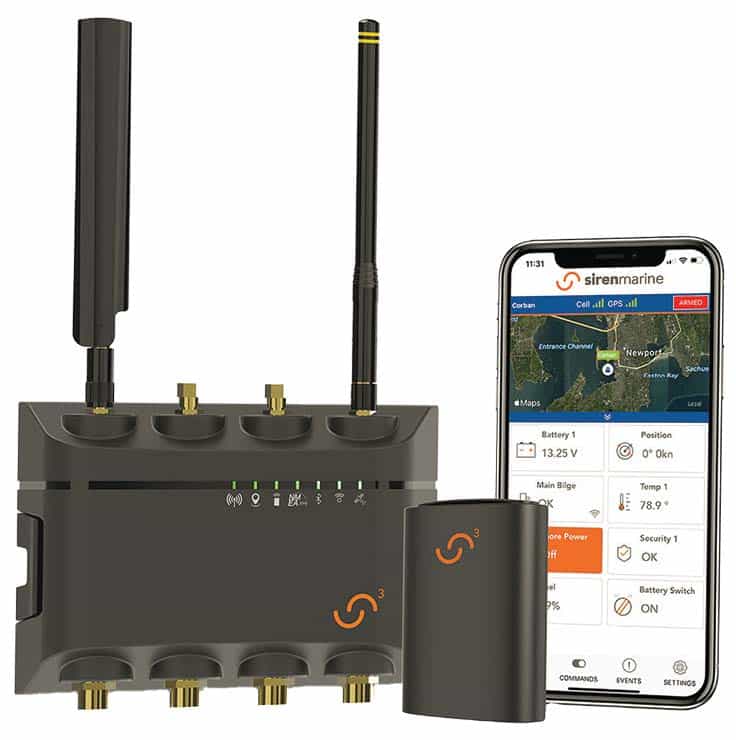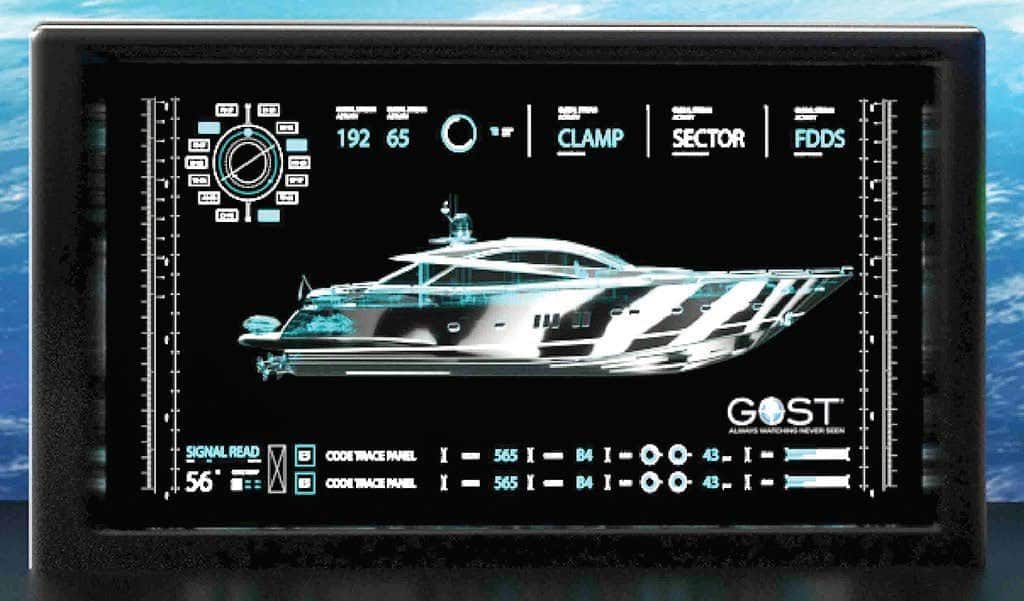 To say that GLOBAL OCEAN SECURITY TECHNOLOGIES' (GOST) new INMARSAT DATA PRO (IDP) SERIES got an antenna upgrade would be a major understatement. It works with Inmarsat's latest satellite technology and supports significantly enhanced speed and security. With 100 times higher messaging capability, lower power consumption, global coverage (with the exception of the poles), and two-way satellite service, the new IDP Series is a real game changer. GOST even added an enhanced Specter tracking website that offers mobile and desktop access, streamlined and user-friendly control of geo-fence monitoring and alerts, remote arm/disarm functionality, and real-time GPS tracking. No more hitting the refresh button while waiting for an information download because this new system is lightning-fast. MSRP starts at $1,299 for the basic 1.0 tracking system | gostglobal.com

entertainment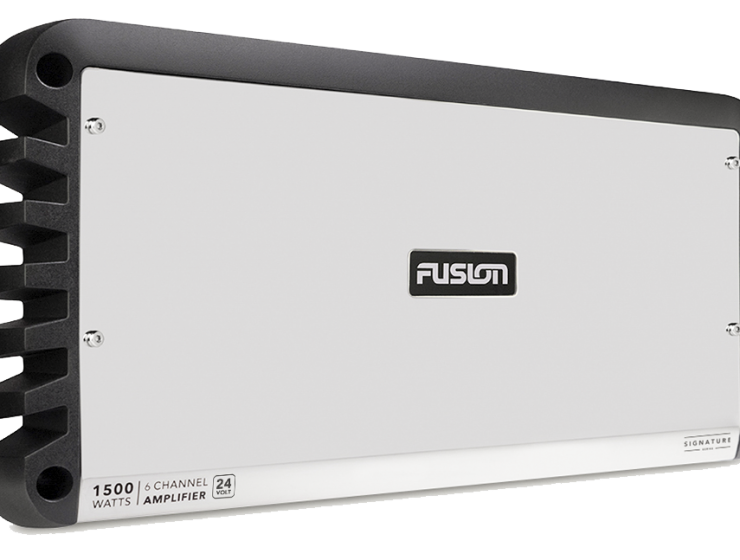 Specially designed for boats operating 24V electrical systems, FUSION has just rounded out it's line with a 24V 6-CHANNEL AMPLIFIER. At a peak power of 1,500 watts, this Hi-Fi marine amp powers up to six pairs of speakers, or four pairs of speakers and one subwoofer. Whether two or four ohms, this Class-D amp boosts onboard systems for optimum output levels and delivers higher efficiency so the music can play longer and at higher volumes without draining the batteries. With a user-friendly plug-and-play setup, this amp is easily installed and eliminates the need for an additional power adapter. It's compatible with Fusion's Signature Series 3, XS Series, and FM Series Speakers.
MSRP $650 | fusionentertainment.com
KVH INDUSTRIES recently introduced TRACVISION TV10, an ultra-high-efficiency marine antenna providing the largestcoverage footprint in KVH's TracVision series through a 41.5-inch diameter dish. It's designed to give boat owners, charter yacht guests, and crews access to live news, local channels, and TV and movie programming from leading satellite TV providers worldwide. The system features KVH's proprietary RingFire technology that delivers a strong signal (KVH's highest gain antenna) for better reception with wide geographic coverage, including remote locations, even in extreme weather. Its state-of-the art TV-Hub interface allows for viewing on any smartphone, tablet, smart TV, or computer and includes the Setup Wizard to troubleshoot, update your library, view signal strength, download software updates, and switch satellites as well as services from the TracVision app on iOS or Android. kvh.com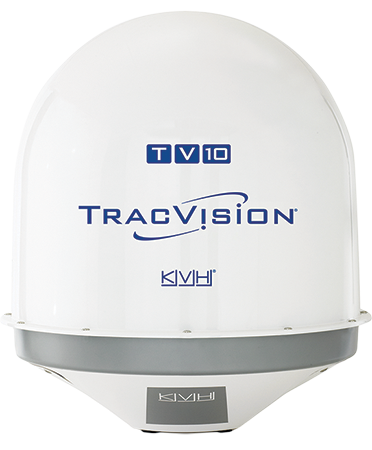 night vision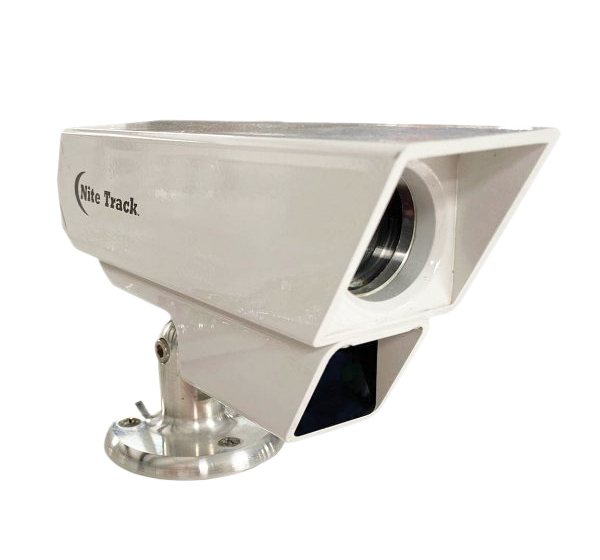 Nite Track's integrated Charge Coupled Device night vision technology is what makes the NITE TRACK MARINE HD NIGHT VISION SYSTEM able to produce images more detailed than those from thermal imaging cameras. Nite Track interfaces with all leading MFDs and is designed to operate in near-total darkness, providing crisp, highdefinition, hands-free video in almost any nighttime environment. Channel markers, fixed obstructions, semi-submerged objects, and other boats are easy to see at night with infrared illumination, a 14-degree field of view, and 752 vertical by 582 horizontal effective pixels. A channel marker can typically be seen about a mile away.
MSRP $4,199 | gonitetrack.com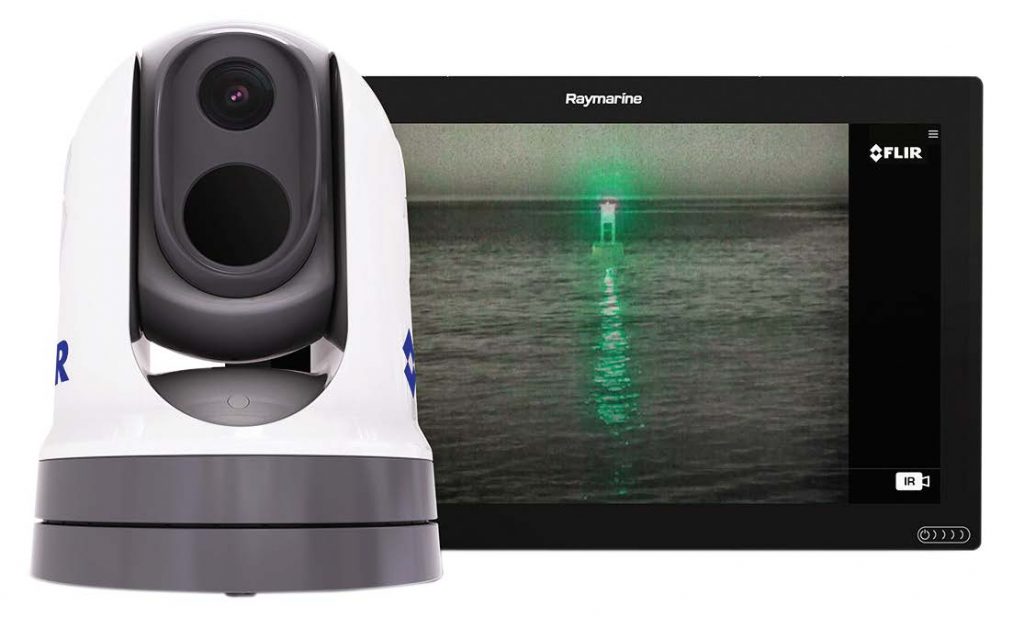 The FLIR M300 SERIES offers five models from a low-light HD visible camera only to a color thermal and visible imaging camera. The M364C and M364C-LR use multispectral imaging to deliver exclusive FLIR Color Thermal Vision technology that blends visible camera details with a thermal image and a vital color imagery overlay. The cameras have a 360-degree continuous pan, a 90-degree tilt, a 30x optical zoom (for daylight imaging), and a 24-by-18-degree field of view. The two-axis mechanical stabilization helps eliminate the effects of boat roll and pitch. Raymarine's ClearCruise augmented reality takes the camera to the next level when combined with Raymarine Axiom MFDs.
MSRP $20,495 for the M364C | flir.com

engine control
As electrical and electronic systems blend into similar technology, DOMETIC dives in with an electronic solution to bring powerassisted steering to cable-driven boats. Affordable, simple to rig, and designed for boats with single outboards between 90 and 200 horsepower, this system attaches directly to the outboard engine and integrates with the current mechanical steering system to provide light, smooth, and easy outboard steering. Unlike electric helm systems, CABLE POWER ASSIST doesn't increase the load on the mechanical steering helm or cable. It commands the power assist unit while the actuator moves the engine load. This is an easy retrofit that extends the service life of older outboards by giving them an electric feel with a simple electronic module. MSRP $850; dometic.com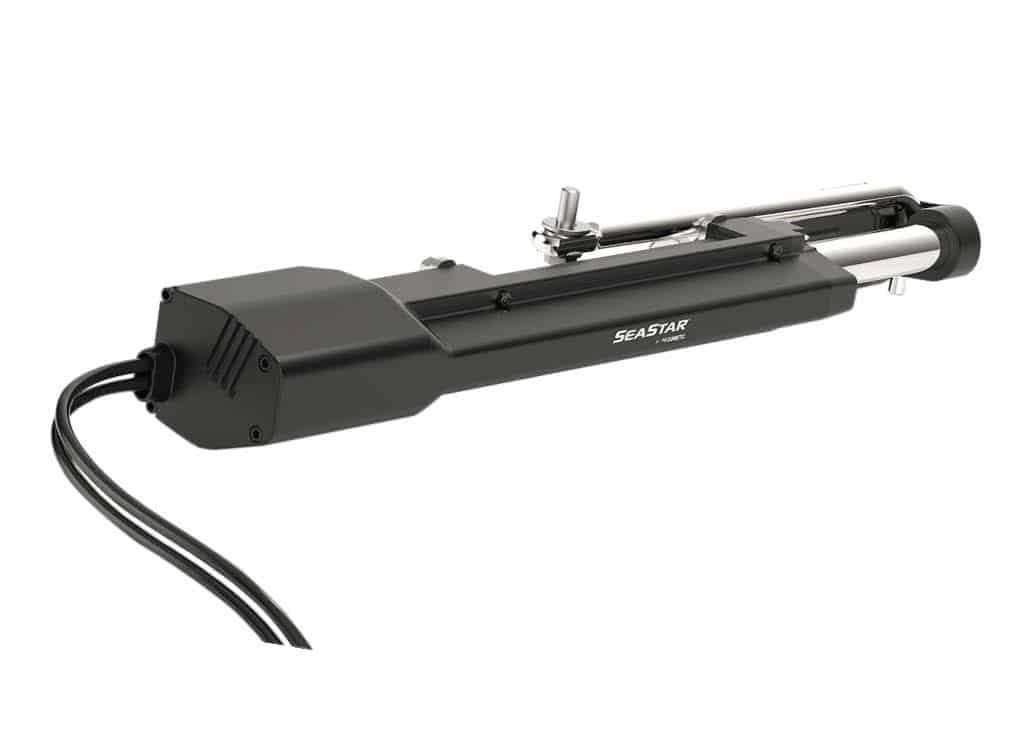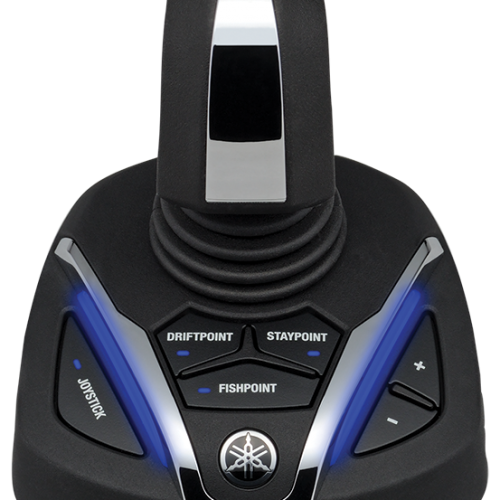 Available in single through quad outboard applications, Yamaha's Helm Master EX creates greater control and fishability for a wider range of boaters, including those whose boats run on one outboard, an industry first. The new generation Helm Master EX coupled with the autopilot allows the joystick to adjust heading, course, track, or set a zig-zag or spiral pattern for trolling. New automated features include DriftPoint Track, which keeps the boat's heading, but not position (flowing with tide and/or wind), and FishPoint mode, which keeps the boat's position, but not heading, even with single-outboard boats, among other modes. The Helm Master EX is available on digital-controlled outboards 150-hp and up with the new bolt-on Digital Electric Steering (DES) component. yamahaoutboards.com

communication

COBRA's MR HH150 FLT VHF radio gives a mariner reliability and peace of mind when communication is key, especially in an emergency. Designed for smaller vessels and those who want an extra radio for their tender or to go on shore, the MR HH150 FLT is an entry-level handheld that floats. With an IPX7 waterproof rating, it can be underwater up to three feet for 30 minutes. The large, orange backlit LCD screen is easy to read and displays icons that show the status of the radio's functions, such as weather, signal strength, battery power, and active channel. The radio includes U.S. and international channel maps. At only 4.5 inches tall and 2.7 inches wide, the radio conveniently fits in your hand and is easy to use.
MSRP $79.95 | cobra.com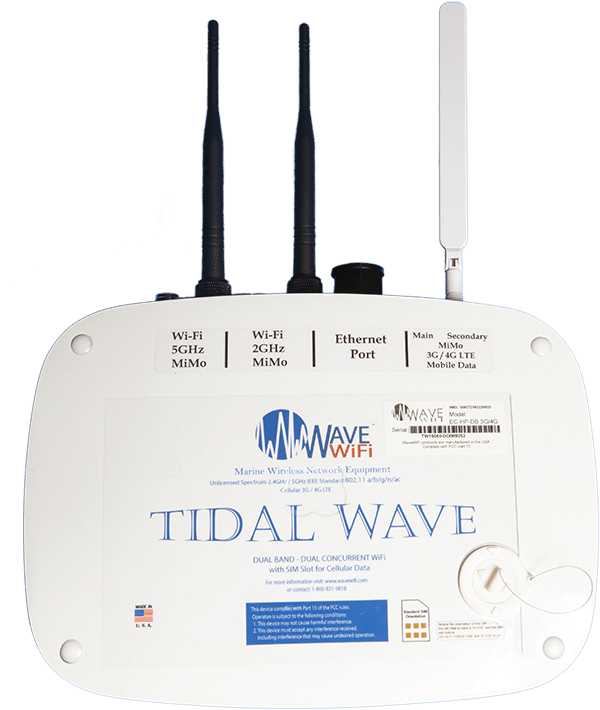 WAVE WIFI'S Tidal Wave is a high-powered, dualband plus cellular 3G/4G receiver that allows boaters to wirelessly connect to the Internet farther from shore through its high-gain omnidirectional antennas and its sophisticated transceiver. A 2020 NMEA Product of Excellence Award winner, the unit utilizes multiple-input, multiple-output antennas to transmit and receive 2.4 Ghz Wi-Fi, 5.1-5.8 Ghz Wi-Fi, and SIM cell data, and includes a one gigabit Ethernet port. When out of range of wireless hot spots, the cellular system provides an alternative path to Internet connectivity. Tidal Wave uses Wave's proprietary Graphic User Interface for easy setup and operation from PCs, MACs, iOS and Android tablets and smartphones, and more.
MSRP $3,295 | wavewifi.com

fishfinder
The LOWRANCE ELITE Ti² gives anglers powerful fishfinding and navigation functionality usually found in more expensive fishfinder/ chartplotters. Active Imaging 3-in-1 (CHIRP/SideScan/DownScan) with added transducer provides superior clarity and high-resolution images of fish and structure with FishReveal. Customize the display with the enhanced color palettes, and map your favorite fishing spot with the built-in C-MAP Genesis Live onscreen mapping. Optional automatic route planning can plot the shortest and safest course based on the boat's specs. Easy-to-use touchscreen, wireless networking, smartphone notifications, and trolling motor/Power Pole integration help you find fish quicker.
MSRP from $649 | lowrance.com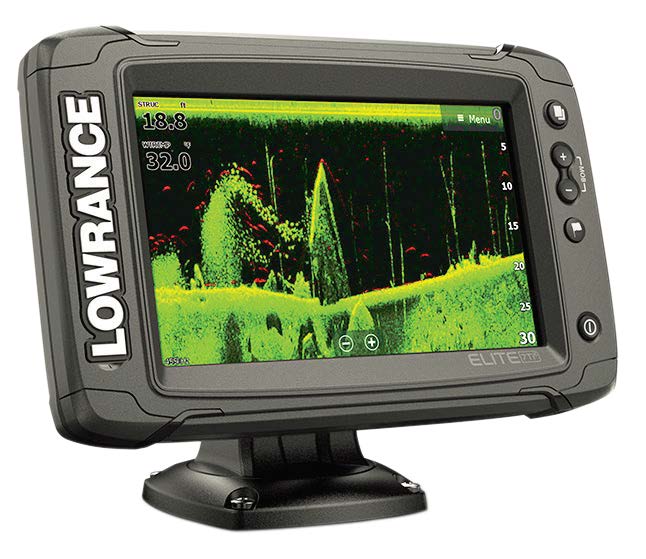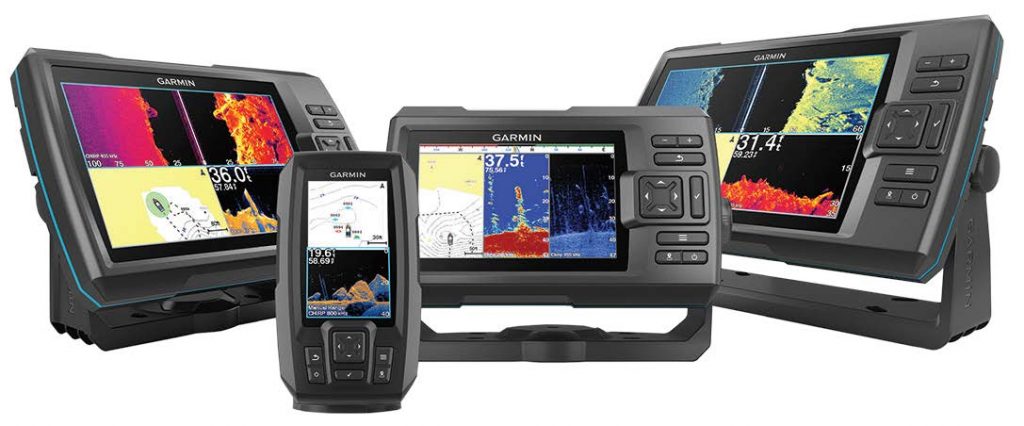 GARMIN introduced a few new products this fall including the STRIKER CAST and the STRIKER VIVID FISHFINDER SERIES. The Cast is a castable fishfinder that delivers sonar wirelessly to an iOS or Android smartphone or tablet. No boat? No problem. STRIKER Cast is a versatile sonar device that anglers can take with them wherever they go. Just cast it out to view fish and structure in crisp detail on the free STRIKER Cast app. With or without GPS, MSRP is $179.99 or $129.99, respectively. The Vivid series enhances your sonar experience with Garmin's most vibrant underwater imagery to date. STRIKER Vivid features seven new color palettes making it easier to distinguish fish and structure. Available with a 4-, 5-, 7-, or 9-inch color display. MSRP from $179.99 to $599.99 | garmin.com
FURUNO won another NMEA 2020 Product of Excellence Award for its DFF3D multibeam sonar fishfinder…for the third year in a row. The fishfinder has a 120-degree view from port to starboard to show fish depth, location under the boat, and the direction fish are moving as well as displaying the seabed condition in real time. The revolutionary 3D sonar reaches depths of 980 feet with side scanning to 650 feet.
MSRP $2,095 | furunousa.com