Welcome To The Fall
Holding Out Hope for the Future

Ten days ago, the seasons changed. We went from Summer to Fall.
Growing up in the Midwest (Ohio), I have always loved the Fall. Not necessarily the cold weather that follows it, but the season which begins in late September is by far the most beautiful. Rich in colors. Some of the other things I enjoy in the Fall include:
The days are still mild, but the nights begin to get cool.
Daylight gets shorter, and darkness arrives sooner, but it's a great time to binge-watch new shows.
College and Pro football kick off a new season. It's fun to watch new superstars emerge.
Baseball playoffs begin the excitement of the road to the World Series. (Our team, the Cleveland Guardians, recently clinched the pennant).
The September-October volatile stock market period usually comes to an end.
The Thanksgiving holiday is approaching soon. I love this holiday!
While Fall is a season, it also has numerous other pertinent meanings:
fall
[fôl]
VERB
move downward, typically rapidly and freely without control, from a higher to a lower level:
"five inches of snow fell through the night" · 
(Of a person) lose one's balance and collapse:
"He stumbled, tripped, and fell"
decrease in number, amount, intensity, or quality:
"Imports fell by 12 percent"  
NOUN
an act of falling or collapsing; a sudden uncontrollable descent:
"His mother had a fall, hurting her leg as she alighted from a train"
a thing which falls or has fallen:
"In October came the first thin fall of snow"
a decrease in size, number, rate, or level; a decline:
"a big fall in unemployment"
---
While the lovely autumn season is upon us (Fall), we have also had to experience a falling stock and bond markets. September saw the worst performance in the S&P 500 since March 2020 when we were in the start of the pandemic.   And it did not end well this past Friday.
A long-lasting correction. The Fall continues.
At 269 days and counting, you would have to go back to March 2009 to find a correction this long in the number of days. The downward grind continues. This is what the numbers look like: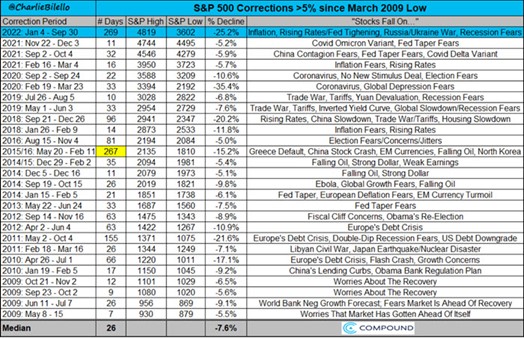 We are also experiencing falling numbers in consumer spending as well as consumer sentiment, purchasing managers index, and economic growth numbers. Most of these are recent numbers and have motivated the major analysts on Wall Street to reduce their earnings expectations.
All Sector Saw a Negative September
As an indication of how widespread the fall in stocks has been during September, below is a graph of the S&P Sectors with their September and year-to-date performance: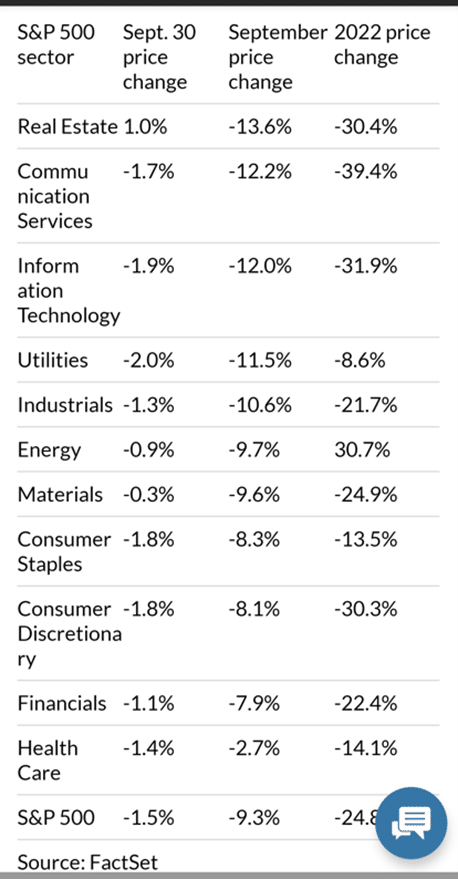 The Fall in September was brutal.    See average performance below:

These are some very large numbers folks.
Week after week, we have urged our subscribers and readers to heed caution, seek the shelter of cash and keep in close contact with us as we are able to offer you a "better" way to invest. We have several dynamic algo driven strategies that are positive on the year, including Global Macro, which is up 15% YTD. If you would like help knowing what strategies work best or how we can offer you optimized blends and help manage your account for you, please click here to reach out to Rob Quinn, our Chief Strategy Consultant
To read the entire article and the many signs of Hope that we see on the horizon, click here