INVESTOR ENTHUSIASM CONTINUES
Weekly Market Outlook
By Donn Goodman
Will the positive market bias continue?
Did we see the bottom in the stock market, and are we on a new bullish trajectory?
Has the economy improved enough to say that we are out of the woods?
We, along with the rest of Wall Street, the banks and stock market analysts and every institutional as well as retail investor, have no idea.
However, we provide the following unbiased information for both sides of the argument and help you to create your own opinion. Recent media reviews point out that the bulls and bears are about evenly divided.
We remain observant, reactive, and nimble as we always have. We have no opinion, and our investment strategies quickly adapt to the changing winds.
Please note 6 MarketGauge investment strategies (including Mish and Crypto) are positive on the year and up in double digits. Please reach out to Rob Quinn, our Chief Strategy Consultant, if you would like more information.
It was another positive week for the stock market. The S&P tacked on 3.3%, the tech-heavy NASDAQ was up 2.7% (and technically in a new market due to its 20% rally?).
However, the big winner this past week was the small cap stocks up 5%. This is the 4th straight week of gains for the stock market after a damaging and negative first 6 months of the year. This is the best stretch for stocks since November of 2021. Will it last?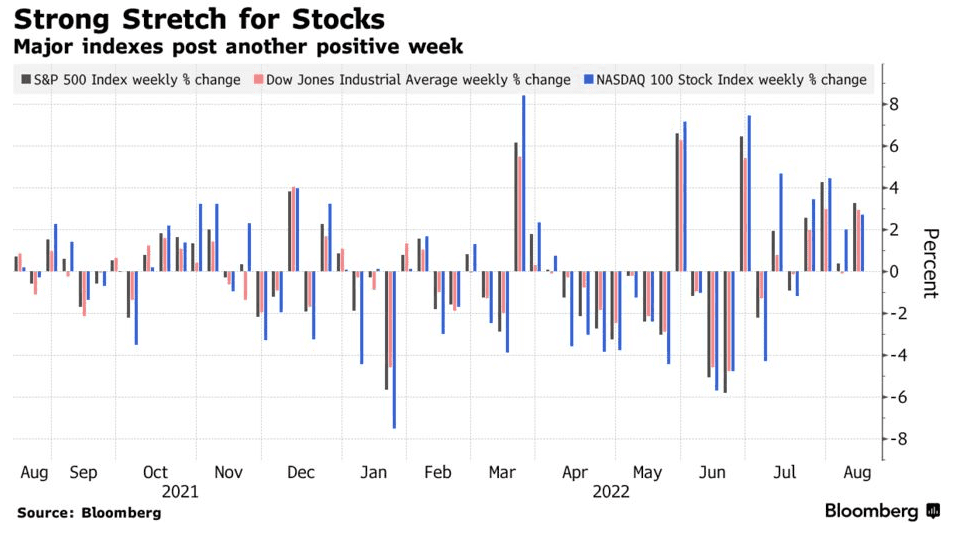 As we have previously written about, there is renewed hope and optimism pervading the investment markets. However, as we have also been saying, there are plenty of wildcards. See this article from last week to read more about the wildcards.
Much of this newfound optimism has been based on an appropriate cooling off of the economy leading to a potential Fed pivot to dampen their hawkishness, declining interest rates from multi-year highs, and a robust job market filled with plenty of jobs openings. Some even call it a worker shortage and estimate that this phenomenon may keep the economy humming without a "hard landing" recession.
More hope came out of a positive earnings season that was much better than expected. Even though many companies reported declining sales, revenue growth, and earnings, most of this was already "baked in" (in the form of lower expected earnings).
As we reported last week, at least 75% of companies have beaten their earnings estimates, with 70% or more beating on revenues. A positive development that helped kick off the rally in mid-July.
There is a belief that Investors have learned to live with pain in the markets. Some of this is due to a previous good few years before (5 year returns of the S&P through June 30 were still 13.4% annualized (July 2017-July 2022) which is well above long-term averages.
The other likely reason is that investors lived through the 2020 bear market decline (down more than 20%) and quickly watched the market's remarkable recovery in a few short months. They did not want to get caught again sitting on cash (not invested) and decided to stay the course and "take the pain." Click here to continue reading about the recent optimism, why investors have stayed invested, and the 7 wild cards that could derail the enthusiasm and positive market bias.