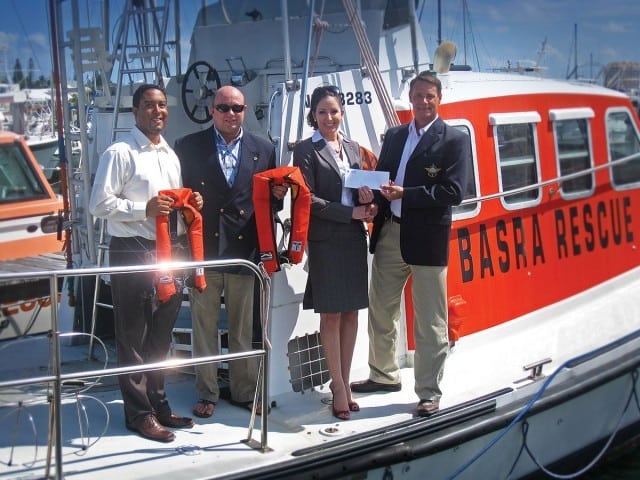 This non-profit volunteer organization in The Bahamas is dedicated to saving the lives of distressed seamen and airmen
in the islands.
The Bahamas Air-Sea Rescue Association (BASRA) is a dedicated non-profit volunteer group committed to the search and rescue of distressed seamen and airmen in The Bahamas—the very first formal rescue organization in the Bahamian islands—and this year marks its 50th anniversary. Headquartered in Nassau, its office is open from 9AM to 5PM every day, with highly trained volunteer captains and crew teams on duty 24 hours a day, seven days a week for mariners in dire need. BASRA's two other divisions in Abaco and Grand Bahamas have the same level of trained local volunteers ready to assist rescue efforts across The Bahamas' 150,000 square miles, making BASRA the largest voluntary rescue organization in this part of the world.
When discussing BASRA's rescue fleet, Operations Manager Chris Lloyd explains, "The BASRA Nassau Division has an offshore 38-foot vessel, a 27-foot fast response vessel and a PWC for shallow water/heavy surf assistance. The BASRA Grand Bahama Division has a 37-foot Protector RIB, and BASRA Abaco has a RIB it shares with Hope Town Fire and Rescue. These are the dedicated BASRA vessels in the higher-traffic areas." To supplement the BASRA fleet, many volunteers use their private boats to carry out search-and-rescue efforts, which have multiplied the number of lives saved.
One thing that sets BASRA apart is its focus on being a life-saving organization rather than a towing service. While it can arrange a tow if contacted, BASRA exists to rescue mariners in life-threatening situations. "We are strictly a lifesaving organization and we want to continue our focus on safe boating education and awareness, particularly for children," says Lloyd. "One of the ways BASRA has grown most in the 20 years I've been operations manager is better vetting of false/hoax distress calls, which we take very seriously." BASRA calls on the U.S. Coast Guard for assistance when available to increase safety efforts for people in need.
BASRA's primary sources of income include supporting membership subscriptions and donations, annual fundraisers, gifts from the Search and Rescue Charitable Foundation, and a small stipend from the Bahamian government. Registered memberships cost $40 a year and go toward fuel, radios, boats, airplanes, safety equipment, maintenance, telephones, and general upkeep of BASRA headquarters. BASRA also sells merchandise such as flags, caps and shirts to promote awareness and garner support. On an annual basis, BASRA typically handles more than 500 cases and operates on a budget of around $125,000.
In the past 50 years, BASRA has grown exponentially to make its mark as a leading life-saving group for thousands of explorers who cruise to The Bahamas' beautiful blue waters. "The hugs and tears of relief from worried family members makes it all worthwhile," Lloyd says.
Beyond donations or becoming a member, volunteer support is extremely vital to BASRA's success—and not just in high-speed search and rescues. Posting letters, planning fundraising activities and office work is essential for any volunteer organization. In addition, BASRA is more than willing to take a helicopter off the hands of someone who does not need theirs.
Southern Boating's beloved founder Skip Allen Sr. was an avid cruiser of The Bahamas and a steadfast supporter of BASRA. The Allen family has requested that in lieu of flowers, a donation be made in honor of Skip Sr. to give back to this around-the-clock rescue initiative throughout his adored cruising grounds. For membership, see the BASRA application on page 96. basra.org/support
By Christine Carpenter, Southern Boating May 2014