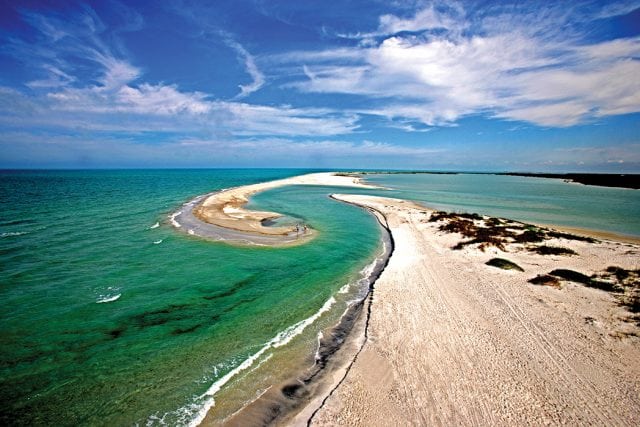 Sanibel and Captiva
The two sister beaches of Sanibel and Captiva are some of the prettiest in the world.
It's 7:30 and the sun is already well above the horizon. As I step out onto the dock, an osprey circles above a school of sea trout holding in a nearby channel. There's a decision to be made now, and I carefully consider my choices: Do I pull up a chair on the bay side with a beautiful view of Pine Island Sound or walk 100 yards to the Gulf shore to see what new seashells have washed up overnight? It's a tough choice, I know, but I'm happy to have options, which is what the beautiful Floridian isles of Sanibel and Captiva are all about. This morning, I'll look for shells.
A Likely Pairing
Wedged between Charlotte Harbor to the northeast and Estero Bay to the southeast, Sanibel and Captiva are the largest in a chain of barrier islands that come across as super-tourist yet surprisingly laid back. Relatively long and narrow, they offer easy access to the Gulf of Mexico for serious offshore fishing adventures and open-throttle cruises. At the same time, this is where Florida's Gulf Coast Intercoastal Waterway (ICW) begins, allowing boaters to tuck inside Pine Island Sound where waters are generally mellow but some routes run shallow. Between these entertaining access routes, Sanibel stretches for roughly 12 miles while Captiva sprawls for another five. Both offer sandy beaches, amazing shelling, fine dining, plus a small-town feel that belies bountiful amenities and provisioning potential.
Historically speaking, Sanibel and Captiva have endured a few weather bumps over the years. A pair of hurricanes tore through here in the 1920s and Hurricane Charlie, a
category four storm, crushed the area in 2004. So bad was the devastation after Charlie that many marinas, resorts, and businesses had to completely rebuild. In doing so,
however, most reset the bar with significant upgrades. The local community also decided to work hard at balancing their tourist-based economy with a deep respect for the
environment. That choice turned out to be a winner as the islands bounced back with a vengeance, their tourism buoyed by the recognition of how big a role access to clean water and abundant wildlife plays in attracting visitors.