Katharine, a 14-foot great white shark weighing 2,300 pounds (named after Katharine Lee Bates, composer of America the Beautiful) visited Pamlico Sound, North Carolina, in January and traveled to Fernandina Beach, Florida, by the month's end. The non-profit OCEARCH tagged Katherine with a tracker off Cape Cod in 2013 to research the movement, biology and health of great white sharks for their protection, as well as for the safety and education of the public. Access her past and future voyages at ocearch.org.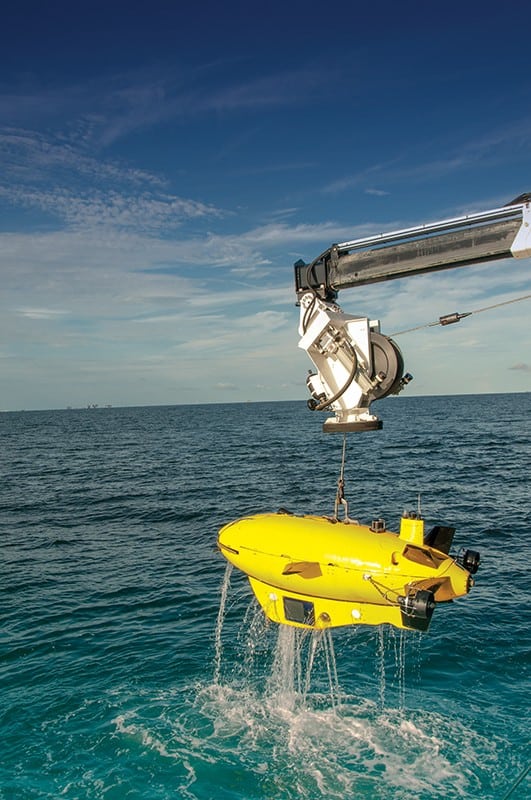 Beware of manned and unmanned submersibles between one and five miles off shore of Palm Beach, Florida, through May. Lockheed Martin-Palm Beach and the U.S. Navy began their 24-hour testing in the fall of 2014 and continue off the coast from Lake Worth Inlet to the Breakers hotel. Skippers are advised to travel 200 yards from dive flags, float balls, submersibles, and RHIB boats. Two RHIB support boats respond to concerned mariners on VHF channel 16.
Country singer Alan Jackson is this year's headliner at the North Carolina Azalea Festival taking place in Wilmington, North Carolina, from April 8-12. The festival will feature concerts, visiting ships, historic home and garden tours, a coin show, circus, art show, and a street fair with a fireworks display on its final night. ncazaleafestival.org 
An outdated drawbridge collapsed onto the roof of a 161′ multimillion-dollar superyacht in December 2014. Fortunately, all 15 people on board disembarked Rock Star unharmed. It was being towed from Fort Lauderdale to Miami by two tugboats when the incident occurred. The Broad Causeway Drawbridge connects North Miami with Harbor Islands and Bal Harbor. Damages to Rock Star are estimated in the tens of thousands. Soon the 60-year-old Broad Causeway will undergo rehabilitation including replacement of drawbridge parts connected to past electrical problems.
M/V Tug Tilly is still beneath 30 feet of water near the Main Ship Channel in Key West. The derelict tugboat sank in February 2014 after being sold to a homeless man. He shoved off with just a 5-hp outboard motor to power his new purchase. Currently, parts of the boat's mast and one antenna appear above the wreck. A temporary lighted buoy with Fl Q R characteristics, 3NM in position 24-31-13.199N/081-49-50.819W marks its spot. Hopes of the costly removal of the wreck are dim.
The U.S. Coast Guard will soon transmit Automatic Identification System (AIS) ATON messages and marine safety information via AIS navigation aids. It now tests these aids in Key West Harbor and Key West Main Channel, the Tampa Bay area, and the Tolomato River to Palm Shores area in northeast Florida. The USCG urges mariners with AIS reception to give feedback and report any abnormalities to the USCG NAVCEN website at navcen.uscg.gov. Specific testing buoys are listed at skipperbob.net/waterway-updates/nav/FL-KEYS.
By Nancy E. Spraker, Southern Boating April 2015