Mariners heading up the Potomac River have a new aid to navigation with the recent addition of The Capital Wheel, a 180-foot-tall Ferris wheel at National Harbor that bears little resemblance to an itinerant carnival ride. The observation wheel has 42 climate-controlled gondolas, each capable of seating 8 passengers. A VIP gondola for four riders offers leather bucket seats, a glass floor, and a retracting monitor/DVD player. With a VIP ticket, you can step right to the head of the line, and the ticket price includes a photo package. At nighttime, 1.6 million LED lights with a spectrum of 16.7 million colors illuminate the wheel. Hours of operation are generally from 10AM to 10PM year-round. thecapitalwheel.com
September and October are arguably the finest months of the year on the Chesapeake Bay. The summer heat has cooled, winds are typically moderate and accommodating, and waters are less crowded due to school activities and Sunday football. Fortunately, some folks know what a prime time it is and organize many weekend activities throughout Bay locales. The Watermen's Museum in Yorktown, Virginia, hosts its York River Floating Folk Jam on Wednesday, September 10th from 5:30PM to 9PM. Enjoy renditions of sea shanties, Irish, Scottish, and tavern music. Bring your voice and your instrument, and since it's a potluck, bring a dish to share. watermens.org
The Hampton Roads (Virginia) Sunfish Challenge & Dinghy Distance Race is slated for Saturday, September 20th. Pre- and post-race parties are held at Willoughby Harbor Marina. The $35 entry fee includes breakfast, lunch, access to an open tap, a regatta bag, and musical entertainment by Suzy & The Naturals. Free for ages 13 and under.
If you have a trawler or are interested in one, TrawlerFest September 25-28 will not disappoint. The event hosted by the Baltimore Marine Center at Harbor View includes seminars, clinics, entertainment, and plenty of new and used trawlers for sale.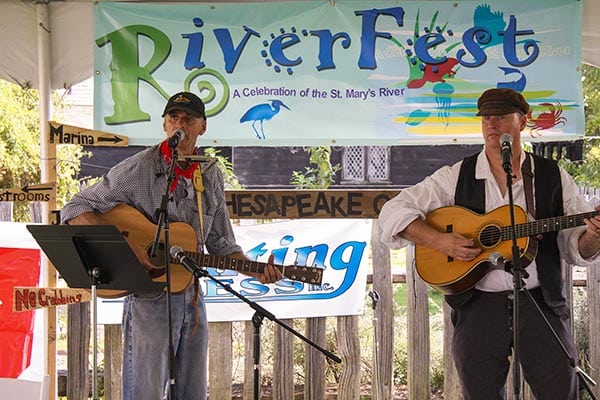 Historic St. Mary's City, Maryland, hosts its annual Riverfest on September 27th from 10AM to 4PM features tall ships, live music, a paddle-in, exhibits, craft vendors, food, drinks, and plenty of free fun for the family. St. Mary's City (it's not actually a city) is the site of the founding of the Colony of Maryland and was also the first Capitol of the Maryland colony, then called the Province of Maryland in the 1600s. A deep-water anchorage (16- to 17-foot depths) is available at Horseshoe Bend with open beaches available for dinghy landing.
By Christopher Knauss, September 2014