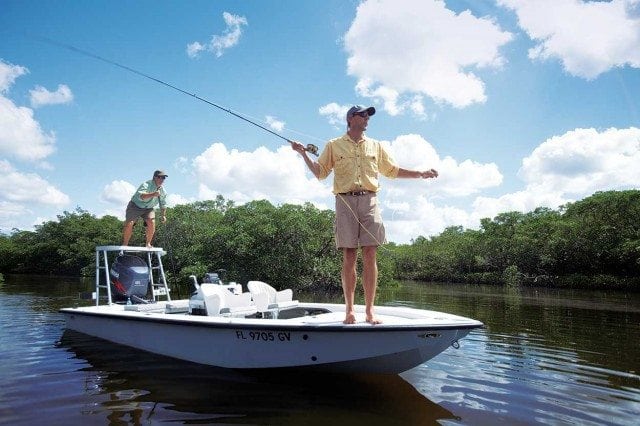 In Chokoloskee, Florida, fishing reigns supreme against a backdrop of local flavor.
On the southwestern coast of Florida, a small community amidst the mangroves preserves the final remnants of the Old Florida lifestyle. In Chokoloskee, and its neighbor, Everglades City, seven miles to the north, there's no pretense. There is, however, a legacy left by early pioneers, whose descendants now populate the area. There are also ghosts—if you know where to look.
The locals have been here for generations. They'll eye you steadily from their seats as you launch your boat at the marina, and maybe even ask where you're from. "We're Florida folk, here to do some fishing," is a fine response. But don't ask about the town's drug smuggling bust in 1983. Mention that, and the locals might reply that people can easily get lost out in the mangroves. And out in the mangroves is really what it's all about.
Chokoloskee borders the western edge of Everglades National Park, and with it the Ten Thousand Islands. The name is well deserved. With over 2,000 square miles of identical-looking mangrove islands and channels, oyster bars, bays, and shallow waters, it's easy to get lost. When you're out on the boat each turn in the channel looks the same. The blue-green water reflects both the mangrove islands and the sky, creating natural fractals as far as the eye can see. Even when you think you might be in the clear, shallow flats and treacherous ridges silently wait.
Like a Local
You need a guide. A local, someone who knows the twists and bends in the channels. Someone who knows when markers have been flipped. Someone like Brian Sanders, who runs fishing charters in Chokoloskee over 250 days a year. He knows where the fish will be biting, when the tide will turn and, most important, the way back inland. For decades, the wilder side of Collier County has drawn sportsmen and outlaws alike. The area's isolation was, perhaps, the biggest draw for the latter, but it has also fostered the perfect atmosphere for a fishing experience unlike any other on this remote edge of the Everglades.