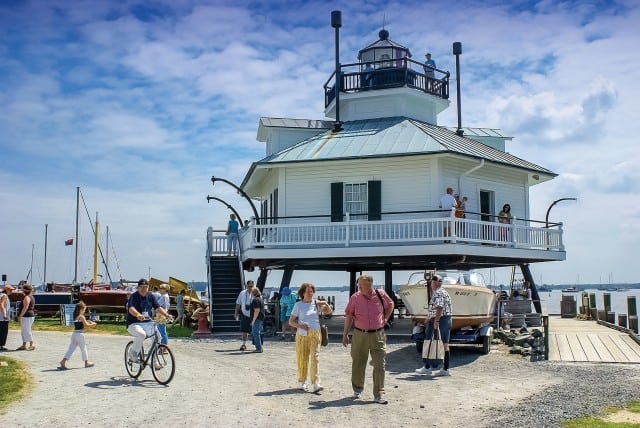 Add opening day of the Bay Bridge Boat Show in Stevensville, Maryland, to your calendar to enjoy the post-show BBQ bash and live entertainment included in the price of your admission ticket. The boat show runs from 10AM-6PM on Friday, April 17th with free barbecue until 8PM. Live entertainment will be provided by the rock band, A Classic Case, and a poolside cash bar will serve beer from local brewers such as Dogfish Head Craft Brewed Ales and The Fin City Brewing Co.
At the eastern shore-end of the Bay Bridge, the boat show event April 17-19 is well worth the $12 ticket, with hundreds of new and brokerage boats on land and water, along with plenty of gear and accessories to peruse. Special activities this year include a demo dock, rod building and casting lessons, striped bass cooking demonstrations by Chef Brandon of Hemingway's, and a moon bounce and face painting for kids. Complete show info is available at annapolisboatshows.com
Freedom in the upper Bay
Jackson Marine Sales, a marina on the Northeast River, is the newest franchise owner of Freedom Boat Club on the Chesapeake Bay. The club has over 80 corporate-owned and franchise locations throughout the U.S., provides members with a fleet of boats to choose from, and handles all maintenance and insurance issues. Marina owner Woody Jackson said the club model is a "tremendous vehicle for bringing newcomers to boating, as well as providing an alternative for former boat owners who are seeking a new way to enjoy the water." The club also has a bay location in Annapolis.
Funds for fun
This year the Portsmouth Angler's Club (PAC) received a $750 grant from the Virginia Department of Game and Inland Fisheries and the Wildlife Foundation of Virginia to support its youth program. The club began in 1966 and hosts fishing trips for underprivileged youth every summer aboard local boats as part of its Children's Sunshine Program. "The club has always been a family organization with kids and spouses involved right from the very beginning," co-founder Billy Sugg says. PAC maintains and supplies about 130 rods and reels for the fishing trips to get kids outside and away from technology for activities they normally don't have access to. More than 3,000 children have participated to date.
Golden opportunity
Golden Tilefish is now an official species in the Virginia Saltwater Tournament Citation Program. The state's fishing tournament committee has added Golden Tilefish weighing at least 30 pounds to the award program. All other previous eligible species and minimum qualifying sizes and weights for citations will remain the same as last year. To be eligible for fish citations and state records, fish caught must be in waters open to fishing to the general public. The state's Junior Angler Program and its Expert and Master Angler award programs are unchanged this year. mrc.virginia.gov
By Christopher Knauss, Southern Boating April 2015