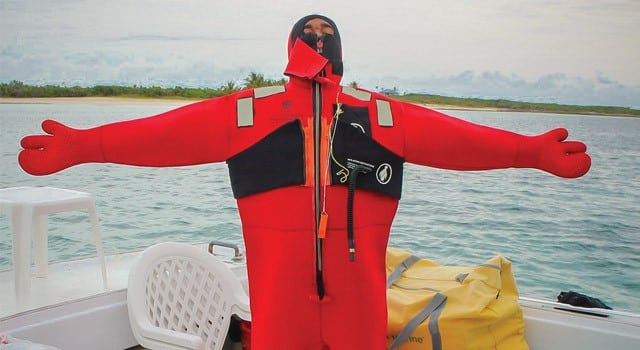 This month marks the beginning of the cruising migration from Florida to The Bahamas, so it is an important time to brush up on safety practices, including realistic safety drills. (Look back in last month's September View from the Pilothouse and Skip Allen's boating safety training with his children.)
No boat should begin a Bahamian cruise without proper preparation. (Is there any cargo or passenger more important than your family?) Make a full inspection of your vessel and conduct safety instruction and drills in crew overboard, fire, abandon ship, emergency communications, CPR, and First Aid. A courtesy inspection by your local Coast Guard Auxiliary (cgaux.org) is a good way to start—self-inspections should be routine, but unbiased observations add important perspective. The Coast Guard inspects commercial vessels at least once annually, and those inspections include getting underway and performing live drills. The Coast Guard has a good list of required equipment for private vessels, but it is important to go a step further. The requirements for the Bermuda Race (bermudarace.com/wp-content/uploads/2013/06/2016-NBRSR-06.16.15.pdf) are an excellent standard for sailing off shore, and the Gulf Stream can be as nasty as any place in the southwest Atlantic. (Some of the requirements include mandatory non-electronic charts of the area, second compass, marking of safety gear with retro-reflective material and yacht's name, emergency drinking water—one gallon per crew member—and more.)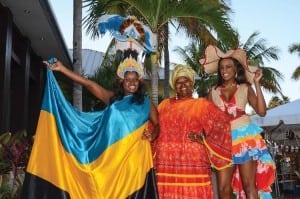 Thanksgiving
If a Bahamian Thanksgiving is in your plans stop by the Authenti-city Annual BAIC Tradeshow (November 26-28), a weekend festival that highlights local Bahamian artists, handicrafts, native food, music, and culture. Set to run on Retail Street at The Grand Lucayan, Freeport, Authenti-city (as the name suggests) is your chance to purchase genuine and unique Bahamian products such as handbags, hats and other souvenirs. bahamas.com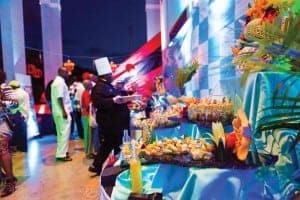 Food for thought
Mark your calendar! Grand Bahamas' hottest chefs, caterers and mixologists are prepping for the Meeting of the Mind II: Culinary Fusion Expo set for November 7th at the Canal House at Pelican Bay Hotel in Freeport. The Culinary Fusion Expo is the ultimate venue for food lovers to sample all the cuisine and beverages that Grand Bahama island has to offer. The event is an opportunity for local businesses to network with their peers and showcase their products and services, while offering live cooking and food samples. .
Customs and Immigrations
To make easy and fast clearance into The Bahamas, it is best to arrive at the offices of Customs and Immigration during the hours of 9AM-5PM. This can be difficult for slower sailing vessels, but it is better to leave the U.S. as early as necessary to arrive well before Customs closes. I quite often chose to sail at night, approach in the dark and heave-to until "day clean" before entering the harbor. For slower boats, West End, North and South Bimini, and Cat Cay are the best places to clear in. If you are making your first cruise to The Bahamas I recommend that you go directly to a marina. The dock master will help make your entry go smoothly. Since circumstances change and some Customs and Immigration offices are more flexible than others, call a marina ahead of time and discuss Customs procedures with their office well before you leave the U.S.
Lately, Immigration has granted cruisers various numbers of days for their initial stay in The Bahamas. Ask for enough days to cover your intended cruise. If not, don't worry. A few days before your allotted days run out go to an Immigration or Administrator's office and get an extension. This is common practice.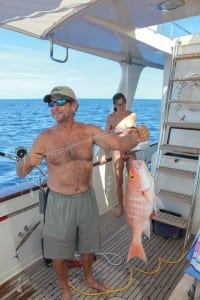 Fishing
Many of the tournaments for 2016 have not been firmly scheduled, but the Bahamian website bahamas.com/fishing will be updated soon. Check the current 2015 list online and make a few calls to tournament sponsors. It's time to start planning your 2016 season, as there is good fishing year-round and no reason to linger at home.
Direct flights
Cruisers now have additional flights for their loved ones to join them during the holidays. Delta has scheduled new services from Atlanta, Georgia, to Marsh Harbour and North Eleuthera. The twice-weekly flights start December 19th and will add convenience for people flying to the Abacos and Eleuthera who won't have to change planes in Nassau.
Navigation notes:
Freeport Harbour has a straightforward entrance with range markers and buoys, but be careful when entering at night or in bad weather. The entrance buoys can be difficult to see. Large ships often anchor near the entrance, and there is a lot of traffic. Be sure to approach with caution and use your radar. From a mile or two out, call Freeport Harbour Control on VHF 16 to request permission to enter.
By Stephen Connett, Southern Boating, November 2015